COVID-19 pandemic has caused a major disruption around the world including global supply chains. Governments are forced to take wise measures to control the spread of the virus, such as lockdowns and social distancing that definitely impact individuals' mobility. Significant reductions can be seen across industries such as fashion and electronics, while healthcare products have experienced such huge increase in demand. The restrictions from governments affect the supply chain as much as it affects other aspects of businesses, thus, organizations are adapting to the situation by restructuring their plan and operations.
This pandemic is really challenging for logistics operations and retailers in terms of maintaining their quality of service for customers while at the same time following COVID-19 rules and regulations. There's a huge number of manufacturers that temporarily close their factories due to this reason, this leads to production shortage for various goods. The disruption doesn't stop at the production period only, but the movement of goods is also disrupted, creating delays and re-scheduling the delivery time in the near future. There's a shortage of transport options too and this causes average lead time to double across the globe: 222% for China, 217% for Korea, 209% for Japan, 201% for Europe, and 200% for the U.S. The delay time between initiation to completing the process has exponentially increased.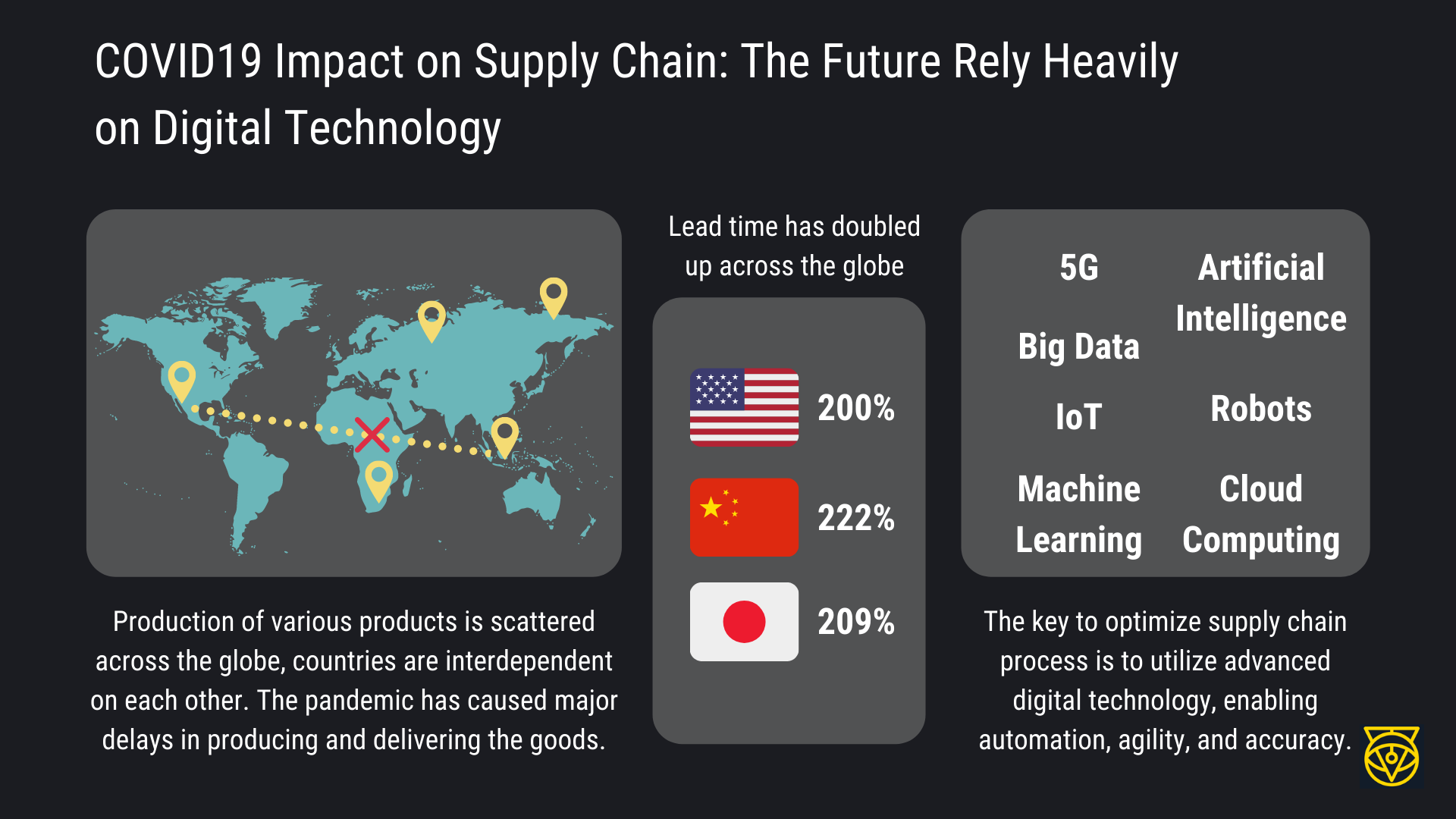 Disruption in the global supply chain is not caused merely by the pandemic, but also from digital disruption. Over the past four decades, much of manufacturing worldwide has been managed globally and known as Global Value Chain (GVC). Global raw material and goods are shipped around the world multiple times and assemble in another location. The final goods then re-exported to the customer in both developing and developed countries. China is the heart of the Global Value Chain as China is the primary producer of high-value materials and components.
Other than that, China also has a large customer of global commodities and a major consumer marketplace. The best example for this would be Foxconn, an electronic contract manufacturer, it produces many world leading electronic companies including Apple, Intel, and Sony. The effects of pandemic that initially started in China is visible in data on industrial production in China, which has fallen by 13.5 percent in both January and February. The global supply chain is interrupted as raw materials and components are produced in China, where Coronavirus has first appeared, and the assemblement of the products are done in several countries across the world.
China's dominant role as the main producer and world's factory means that any major disruption will put global supply chains at risk. China supplied about 42% of the world's exports in 2018, more than 200 Fortune Global 500 companies also have a presence in Wuhan, China. While Europe has been exporting 80% of active components for drug supply to China and India. From this information, we can clearly see that countries are interdependent on each other as every nation has their own advantages and disadvantages. It's really challenging to readjust logistics and operations across the globe with limited options and resources.
COVID-19 Pandemic has re-affirmed that logistics and manufacturing sectors need to be automated. During a time of crisis, businesses could gain advantage by relying more on advanced technology to minimize human contact. Now, Organizations that rely on producing and warehousing are urgently discussing how they can stay productive and avoid the damage that's caused by mobility limitations. Automation technology is the key to solving these problems. Business leaders in this sector have no choice but to be open minded and invest in industry 4.0 technology. Some companies such as Alibaba have already utilized industry 4.0 technology that minimize human-contact in real life, Alibaba's robot-powered smart factory, making the entire supply chain contactless and Alibaba's warehouse almost entirely run by robots.
In Japan, the need for automation is acknowledged and acceptable. The japanese aging workforce really needs a substitution for human labour on production lines, the pandemic and the pressure from e-commerce , has led to an increasing demand for digital transformation in companies supply chain. According to a Bloomberg report, Tsubakimoto Chain Co. is seeing an increase in demand for technology that can help companies in warehouse and factories. In the US, carmaker Daimler invested US$ 573 million in technology for autonomous trucks, faced with shortage of long-distance drivers, autonomous trucks are predicted to reduce the operating cost by 45%.
In a post-pandemic world, global supply chains will have different visions, supply chain stress tests will become a new norm. Global distribution business models that focus on minimizing the cost, is finished. Optimization in every level and aspect of the supply chain should be the main priority. Supply chain has become the heart of the business and the main protagonist, it has moved from being the player behind the scene to being the main driver of the company. To see clearly in choppy waters, navigators need visibility. Some manufacturers have already utilized advanced technology to produce a comprehensive dashboard or command centre that is able to provide production and shipment status in a very detailed manner, refreshed every time following updated real data.
Other new advanced technologies that are able to improve the end to end process of the supply chain are also emerging. Traditional linear supply chain is going to be replaced by digital supply chain networks, where silos no longer exist and organizations become wholly connected, enabling the visibility of end-to-end processes. The advanced technologies such as 5G, DSNs, AI, and IoT will be leveraged to meet the future challenges.
The Conclusions
The challenge for overall supply chain management is not going to merely focus on minimizing the cost, but to improve and optimize every step of the supply chain process. COVID-19 pandemic only reassured that changes are needed, it basically re-affirmed that manufacturing and logistics sectors need to be automated, and it's very possible with the help of advanced digital technologies such as Big Data, AI, Machine Learning, IoT, 5G, and many more.
Volantis helps organizations across various industries to accelerate digital transformation through advanced technologies such as Artificial Intelligence, Machine Learning, Big Data, Analytics, and many more. Solving businesses most complex problems, predicting business outcomes, and automating the process. If you'd like to know more about digital transformation, please consult with us for free.
click here