The Outbreak
Since the beginning of January 2020 when WHO announced the COVID-19 outbreak on the news, our world that we know has never been the same. This pandemic ultimately led to heavy financial losses across industries, It's very difficult to estimate the long-term effects of this pandemic outbreak even though we have experienced several pandemic outbreaks in the past, there was no extensive study regarding the long term effects, covid-19 outbreaks have forced more than too many businesses to close down; disrupting every industry affecting each and everyone of us, there will be major changes in geopolitics, global economies, and our societies.
Nations have closed their borders and limited its citizen movement to a very maximum extent by advising them to stay home or commonly known as lockdown to hopefully stop the spread of the virus. This is a quite unique occurrence, as we are so used to the freedom of movement, but in the middle of all these chaos, we seem reasonably obedient for the sake of a better world. Even though our society seems very accepting of these regulations, we should start asking ourselves whether any of these will accept our views regarding freedom, healthcare, government intervention, etc in the future.
The overview impacts of the pandemic
Our Mental Health
Due to Covid-19 outbreak, many organizations chose to establish new regulations to work from home (WFH) protect its employees from the danger of Covid-19, even though this is probably the best possible option to be implemented, humans are social beings that rely on cooperation of others to survive. A study by the World Economic Forum found that up to 45% of adults felt adverse as the result of lockdown because not everyone is working from home with their family, there's a huge number of people who live alone in developed countries. Up to 70% of adults stated that this is the most stressful period in their career life, the main reason for their stress is because of the pressure from the economic crisis, everyone is required to critically think outside the box and be creative on how to survive this pandemic.
Increase of Inequalities
Covid19 economic crisis hit the people that are underprivileged and socially disadvantaged unproportionately harder, even the gap between the rich and the poor is already huge for developing countries, this pandemic will stretch the gap even further. For those people whose job requires them to be physically present, experiencing a dilemma to choose between leaving the house to work so they can cover their basic needs or staying at home without having to worry about their health state but with no income, this is a real struggle for these people. During normalization after this pandemic is over, the government should focus on this issue to help stabilize our economy again.
Unemployment
Global unemployment has reached its peak level at 190 million, the employees in these four sectors experienced the most drastic change as the effect of Covid-19 outbreak: food and accommodation sector (144 million people), retail and wholesale (482 million people), business services (157 million people), Tourism (100 million people), and manufacturing (463 million people). In Indonesia alone, the number of unemployment kept rising and it has reached 9 million people, good news is Indonesian government has put aside US$ 26.36 Billion which is equivalent to 2.5% of Indonesian's Gross Domestic Product (GDP), to focus on healthcare and economic recovery programs, and social protection. Not to forget the youth who just graduated from college or university, youth employment in developed countries has just returned to pre-2008 economy crisis level, while in developing countries, the number of unemployed youth has risen intensely, even in some countries unemployment has led to riot and chaos everywhere, which will be discussed deeper in the topic below.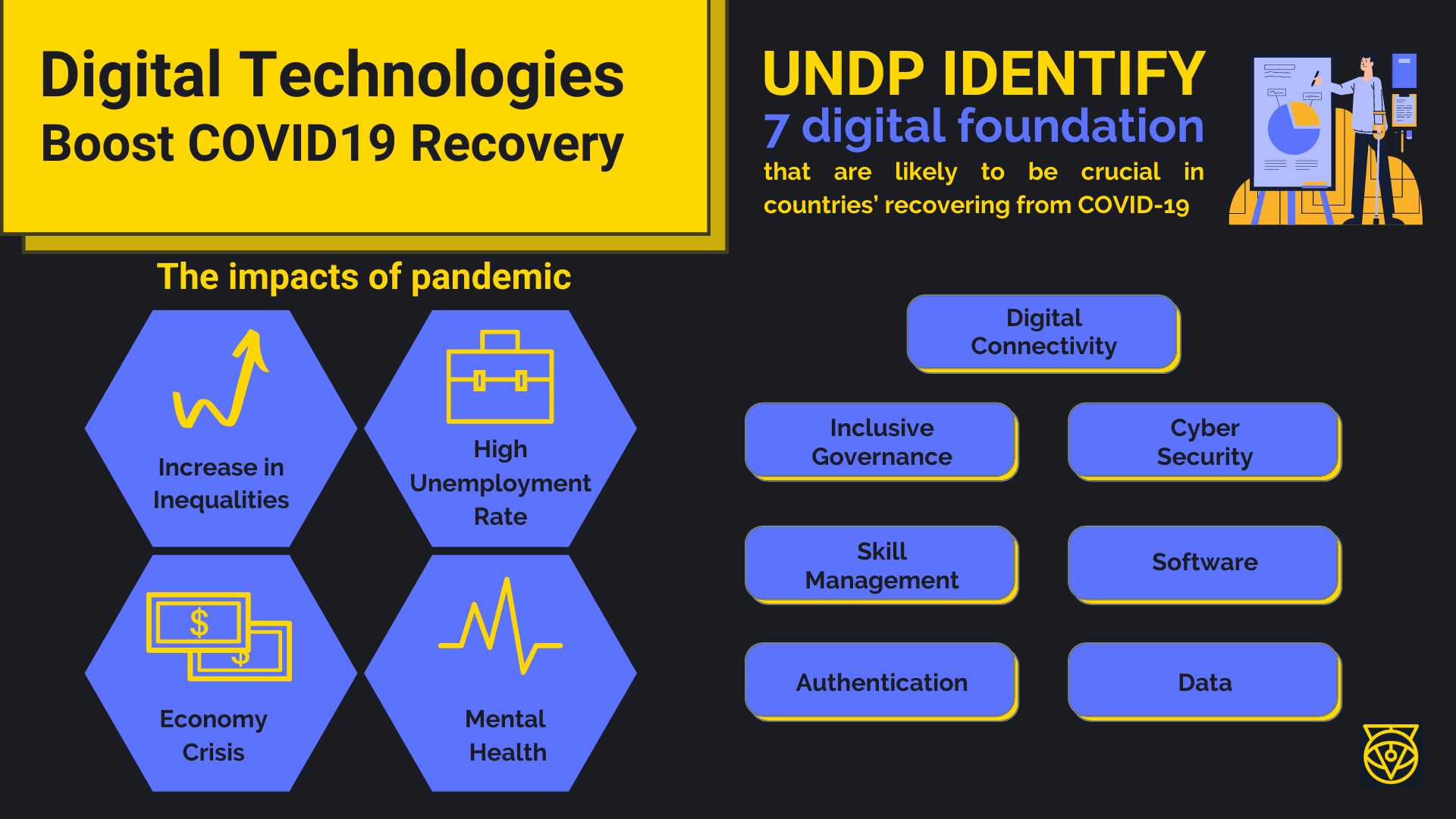 The recovery
Accelerated migration towards digital technologies due to a global pandemic outbreak will continue even in the post-pandemic period, in fact, the recovery from the outbreak will be digital. As the number of countries that are infected by COVID-19 keeps increasing, every country is responding differently to the global crisis, some countries have already taken speculative actions into recovery points.
The countries who handled pandemic quite well - Singapore, South Korea, and Vietnam - led to minimum or even zero effects on the country, these countries have certain actions taken in common, this involves early lockdowns, immediate public health actions, effective diagnosis, and treatments. Above all the things mentioned, these countries also benefited from leveraging digital in their response to COVID-19 outbreak. Some of the digital utilization is focused on mobile apps and other devices facilitate contact tracing which had such a powerful impact on maintaining the spread of the CoronaVirus
In Singapore, the base location of UNDP Global Centre of Technology, Innovation and Sustainable Development. The Singapore government has committed to increase its digital investment to over $2.5 bn to drive COVID-19 recovery. UNDP Global Centre has identified 7 digital foundations that are likely to be crucial in countries' recovery from COVID-19. These aspects are:
- Digital Connectivity : Wired or wireless connectivity is important for healthcare system, remote working, e-learning, and public service delivery.
- Equitable and inclusive governance : Ensuring that every citizen is included in the recovery efforts, specifically to prevent any expansion of digital divide or bias created by digital tools.
- Cybersecurity : Focus on protecting privacy in growing digital economy and ensure resilience of critical infrastructure needed to react to future challenges Skills and change management: Improving digital literacy of every citizen.
- Software: be it an open source or proprietary, to facilitate how government operate and function
- Authentication and Identification : Verification assets act as a main component of accessing public and private services such as subsidies and other supports
- Data : data is essential to drive whole government approach for recovery purposes
Other than the aspects mentioned above, digital payments, digital communications, and digital public service delivery will also play an important role in the recovery process from COVID-19.
Rapid digital in Indonesia is possible thanks to Palapa Ring Project at the end of 2019 that enables nationwide access to both electricity and internet. Current statistics from We Are Social in the beginning of 2020 indicate that 124% of Indonesian population own mobile phones with 54% having access to the internet and 69% have regular access to actively use social media. However, digital transformation is unevenly distributed in Indonesia, accelerating fast in Java, moderately in Bali and Sumatra, but relatively slow in Kalimantan and East Nusa Tenggara. Such changes emerge because the epidemic such as work from home, online learning, and online shopping have become the new normal. These changes have rapidly increased the use of digital technology, more and more people are adapting and learning to use digital tools with the help of government and organizations.
E-commerce transactions also increased by 162% in 2017-2019 according to BI (Bank Indonesia), the figure kept increasing since the beginning of the outbreak. The Cooperatives and SMEs ministry also found out that online sales of food products have increased 300% in early March 2020, this significant increase was also investigated in the fintech industry, which resulted in 200% P2P lending in March 2020.
Covid19 pandemic has a significant impact across organisations and industries, this is the time that will determine the sustainability of our businesses and economy, to adapt or to die are the only options, one of the solutions to help an organization or even a country is to adopt digital technologies in all aspects of life.
Digital technology helps the economy flow throughout a pandemic and it has the power to boost recovery. Volantis has helped various organizations across industries to accelerate digital transformation effortlessly, our AI platform facilitates simplicity and provides solutions to various business challenges. Read other interesting articles here or contact our professional team for free consultation here