With the advancement of technologies comes disruption of currently well-established systems across many sectors of society, this situation called "digital disruption", which is the disruption to the market. The Oxford College of Marketing describes this concept as a transformation that occurred as a result of continued invention of new digital technologies and business models. These inventions bring fresh and new ideas, products, and services to the market, it may even affect the value of existing products and services. Digitalization has disrupted the market and the consequences of this disruption is the need to re-evaluate the systems that have been used so far.
The disruption in the market can be seen clearly as the fact is digital technologies can surpass the existing business model in the market much faster, digital technologies' modular model is flexible, allowing rapid adoption by customers globally. According to James McQuivey, every company that wants to successfully adopt digital transformation should be able to answer these three important questions:
1. How can the company adjust to change?
2. For whom does the company do the transformation?
3. What does the digital transformation for the company look like?
According to the article called Business Model Generation, business model is a way of how companies create, capture, and deliver value. Typically, a business model is divided into 9 blocks which are customer segments, customer relationship, channels, value proposition, revenue streams, key resources, key activities, key partners, cost structure, and revenue stream. Each block represents certain features which describe the main definition of a business model more properly. If the company wants to pursue a successful digital transformation, they should re-imagine each block in a thorough and strategic mindset.
Take one of the blocks for an example which is Channels, in a new business model, companies should think about how to create, capture, and deliver value in a more innovative and convenient way with customers being the centre of attention. For instance, Domino - a pizza brand, have invented their customer and channel engagement by corporating a pizza tracker feature on their application. The customers can actually track their pizza making process from the order place, preparation, baking, quality check, and finally the pizza is out for delivery. The Pizza Tracker is not merely about tracking the process of making pizza, but it also provides accountability and transparency for customers.
The degree of Digital Transformation of business models including incremental and fundamental change of business models. The reference unit with regard is mainly the customers, but digital transformation also affects its own business, partners, industry, and even competitors. Within Digital Transformation of business models, enablers (e.g., consultant or experts) and technology (e.g., big data) are used to generate new applications or services (e.g., on-demand prediction). The new business model is based on an approach with a series of tasks and decisions that are dependent on one another in a logical and temporal context. It affects four target dimensions which is time, quality, space, and finance.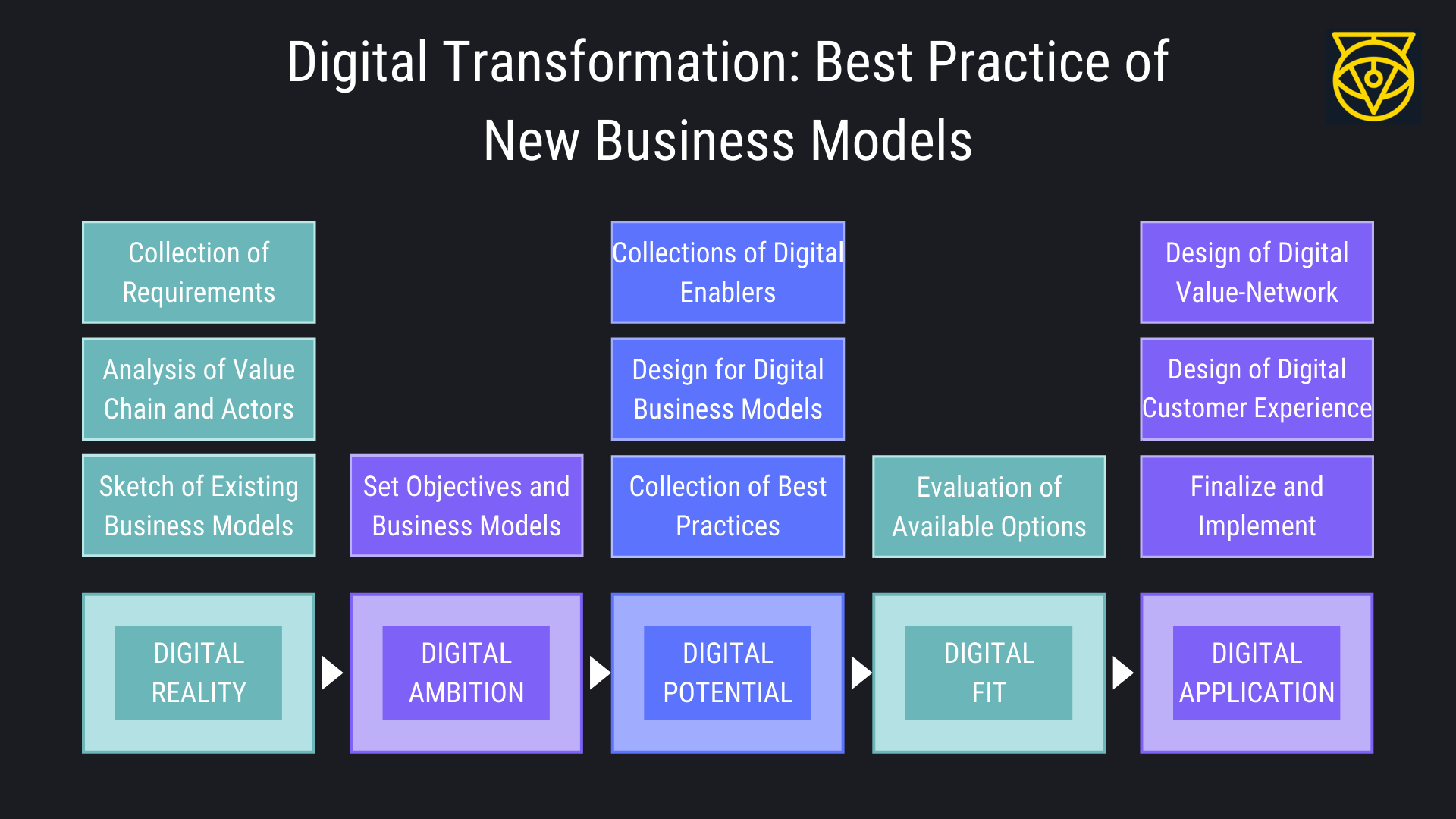 Approach to digital transformation new business model
The roadmap is given based on the existing theories about new business model innovation. The roadmap is explained as follows:
1.Digital reality
In this phase, the company's current business model is sketched along with value-added analysis, the analysis is based on survey of customer and stakeholders requirements. The result of this process should provide an understanding of digital reality for the related company in various areas. To conclude, this phase should include the sketch of existing business models, the analysis of value chain and actors, and the collection of both customers and stakeholders requirements.
2.Digital Ambition
In the Digital Ambition phase, objectives should be defined clearly based on the sketch from digital reality, which is the previous phase. These objectives should be created in regards to time, finances, spaces, and quality. This phase should highlight which objective should be considered for the business model and its elements, there will be different opinions occurred, however best opinions should be combined strategically. The focus should be on the objectives and business model dimensions
3.Digital Potential
During this phase,business best practices and enablers for digital transformation is established. The result of this phase is a concrete design for future digital business models by exploring various potentials in the options, which serve as a starting point for digital potential of the business.
4.Digital Fit
After establishing the available options, this phase should look for the options to determine the digital fit for existing business models. The chosen digital business model should fulfill the requirements made by customers and the objectives are achieved.
5.Digital Application
This final phase that should include finalisation and implementation of digital business model, includes the design of digital customer experience and digital value-creation network that describes integration with partners. In addition, resources and capabilities should be included in this phase.
The Conclusions
The digital transformation of business models is very demanding, it requires new skills, new value-chain, and customer-centric mindset. The transformation is not easy, but it's worth it. Various new business models are appearing in the market and disrupting the current ecosystem, one of the wise actions any company could do is to transform along with the trends.
Volantis helps organizations across various industries ranging from small to large enterprise, to accelerate digital transformation through advanced technologies such as Artificial Intelligence, Machine Learning, Big Data, Analytics, and many more. Solving businesses most complex problems, predicting business outcomes, and automating the process. If you'd like to know more about digital transformation, please consult with us for free.
Click Here