Digital transformation changes the way businesses operate and deliver its value to customers, by combining digital technologies into every aspect of the business. These changes also contribute to new business priorities such as focusing on building excellent customer experience and deploying digital transformation strategies. According to the 2018 State of Digital Business Transformation research from IDG, almost 90% of organizations have one thing in common, the organizations either already have or plan to have digital strategy. In today's connected world, the era powered by technology and the internet, customers are more educated and have higher expectations than ever before. Thus, not only large enterprises that have to acquire digital transformation, SME (Small-Medium Enterprises) also have to match with current customers demands.
Businesses focus on digital transformation is the result of increasing competition and the need to deliver value to customers by innovating through digital technology. According to Watermark's 2019 consulting reports, brands that focus on improving customer experience have 3x greater stock performance than those brands who don't. This is why Gartner considered digital transformation as the top three priorities for enterprise, as business' overall performance depends on their priority.
Digital transformation is the adoption of digital processes and tools to achieve business goals and deliver value to customers. Redefining the entire business strategy through digital transformation to keep up with competition, this might mean making uncomfortable changes or reconsidering certain things that have worked great for the company in the past. Successful digital transformation includes modern technology and culture to support across organization. Digital transformation looks different for large and SME, it also has different advantages on its own. For instance, large enterprises have enough budget to hire digital transformation experts or consultants to help the company, however, large companies will have large teams and more complex systems. While SMEs wouldn't have a big budget and might have to digitally transform with the available knowledge and resources, but the team and system is much smaller and easier to maintain.
According to SMB Group's 2017 US Small and Medium Business Digital Transformation Study nearly half of SME stated they are currently planning to engage in activities that will help them adapt and transform their business for the digital future. Other than that, around 75% SMEs agreed that digital technologies impact the way they do business. However, the data stated that only one in four SME have invested in digital transformation, which is a shockingly low number.
Typically, every business has top 3 priorities, which is winning new customers, reducing operational costs, and growing revenue consistently. However, there's always challenges such as increased costs due to external factors and financing new investments could be daunting. Enterprise Resource Planning (ERP) is the right solution to tackle these challenges. ERP is a process used by organizations to manage and integrate the important parts of a business, often in real time by software and technology. ERP solutions can reduce the costs substantially, improve inventory turnover by 57%, faster order by 20%, reduction in operational costs by 18%, and reduced administrative costs by 16%. With modern ERP solutions, companies can grow 35% faster in terms of quality, usability, and agility. This is one of the tech tools that can bring great benefits to organizations.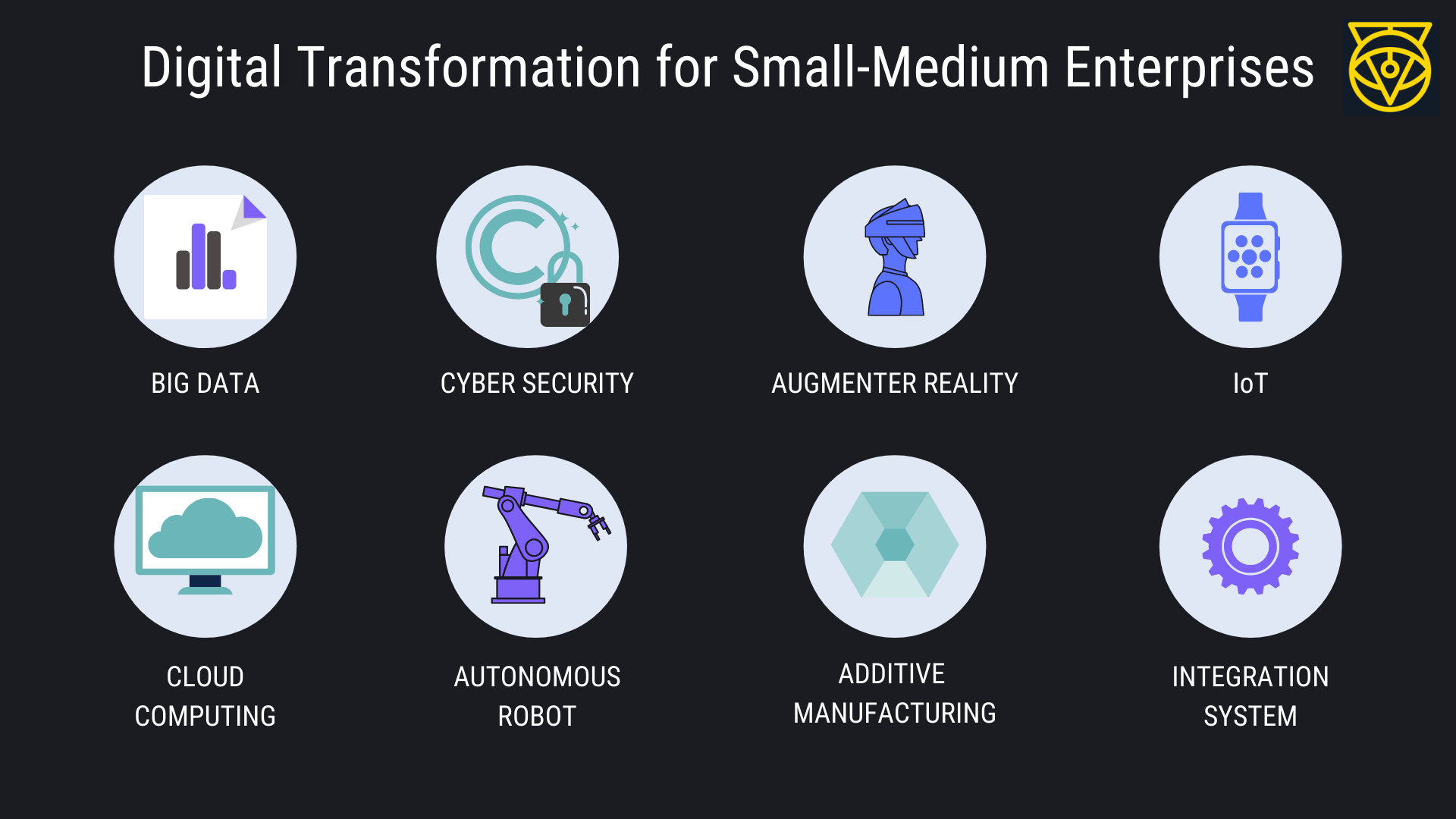 For SME, Cloud computing has many advantages. Cloud Computing provides solutions to various SMEs problems and concerns on costs, flexibility, and agility. The data can be accessed anywhere and anytime, boosting productivity and flexibility of the team, all the benefits are offered at reasonable prices. Other than that, by using Cloud technology, SME could eliminate the cost to maintain the IT infrastructure or fix it when something is wrong, as these things are the responsibility of cloud providers. According to a research by Gartner, up to 60% business owners will be relying on cloud for hosting data by 2022, the number has doubled since 2018.
It's also cheaper and easier to use cloud rather than buy a server, get it up, running, install, and maintain everything, this is even more costly than subscribing to cloud plan. By not thinking about all these hustle and hard work, companies can actually focus more on developing the business strategy and scaling up their business. S&P Global found that the majority of organizations, which around 60% organizations stated that their IT will be off-premise within two years, as it's much more ideal for SME.
Big Data is another advanced technology that should be incorporated in SME digital transformation. Big Data is a process of examining unstructured and structured large sets of data into valuable information. Many SME believe that they are too small for big data, this is not actually right, SME also need big data to succeed. Data analytics provides businesses with clearer insights in order for business to be more efficient and productive. Nowadays, there are many big data tools solutions on the market that are suitable for SME, affordable and comfortable to manage. The example of tools are data integration tools, data preparation tools, data quality tools, and data governance tools.
Big Data reduces overall costs, improves productivity, increases efficiency, and enhances accurate decision making based on real data not biased assumption, as it provides the information needed to identify inefficiencies in operations and overall business process. SME should consider digital transformation as their priority too, as the business landscape is going to become more competitive with thousands of innovative inventions from competitors. Industry 4.0 technologies such as Automated Robots, IoT, Augmented Reality, Artificial Intelligence, and Additive Manufacturing are also suitable for SME.
The Conclusions
Not only large companies that are responsible for digital transformation, SME is also competing in the same ocean. The existence of new business models and higher customer expectations force all kind of enterprises to also accelerate digital transformation. Volantis helps organizations across various industries ranging from small to large enterprise, to accelerate digital transformation through advanced technologies such as Artificial Intelligence, Machine Learning, Big Data, Analytics, and many more. Solving businesses most complex problems, predicting business outcomes, and automating the process. If you'd like to know more about digital transformation, please consult with us for free.
click here