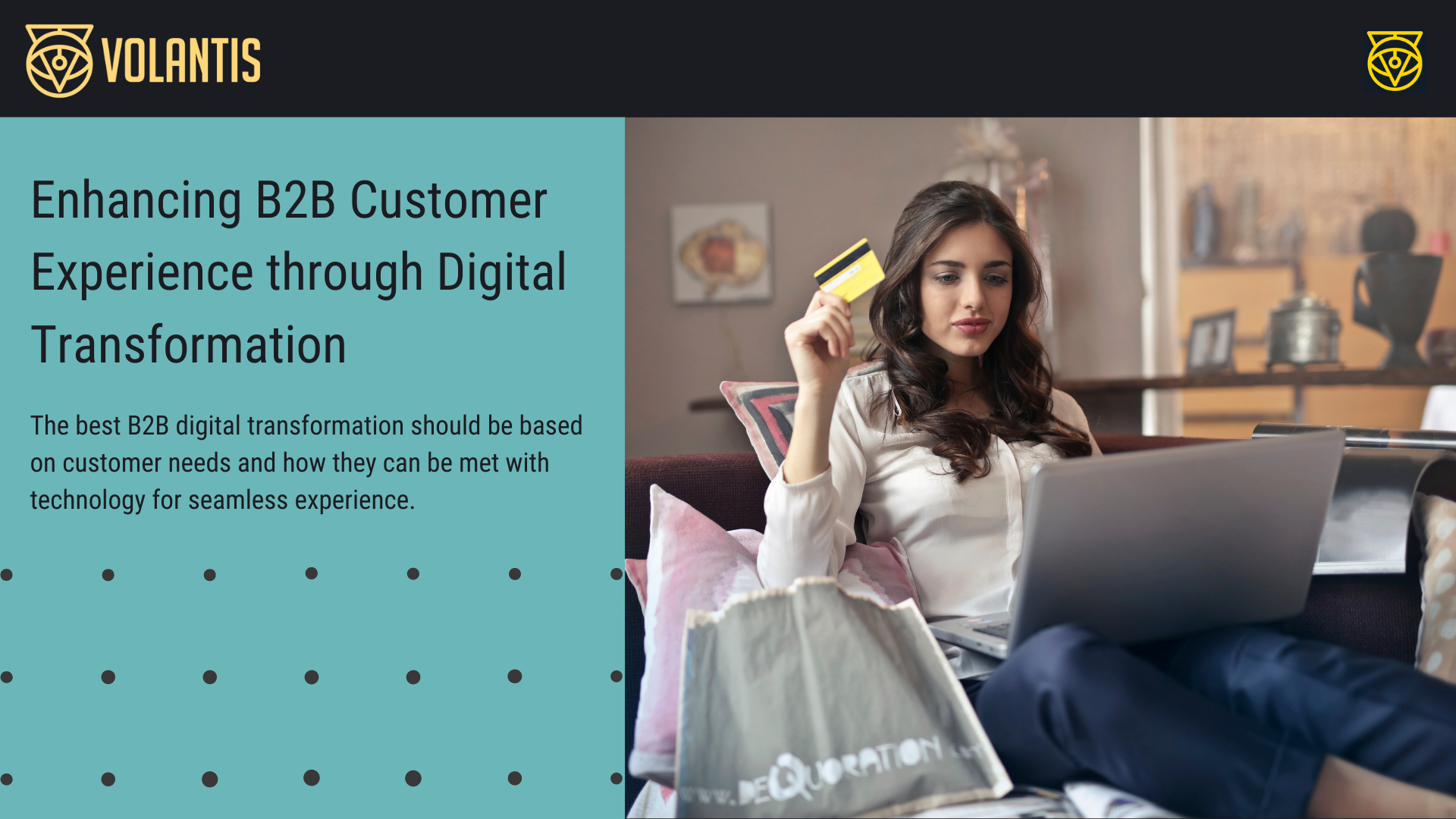 COVID-19 pandemic has accelerated digital transformation across various industries, the shift from a traditional model to modern digital business model is easy to see, but implementing it is not as easy as it seems. We are witnessing B2B leaders are utilizing digital technologies to access valuable information, make informed buying decisions, engage with both suppliers and clients, and many more business activities that involve advanced technology. B2B leaders are finding efficient ways to develop their business in a world that has been turned upside down because of the recent event and disruptive power of digitalization.
Research has shown that B2B companies that successfully master digital transformation have 8% more shareholders returns and five times more revenue growth than their competitors and also have 5 times revenue growth. These numbers have proven the power of digital transformation. Digital transformation enables B2B businesses to provide consistent and high-quality customer service. B2B needs to adjust with the ecosystem accordingly as it doesn't get easier from now on. B2B companies must go after shrinking product shelf lives, greater transparency, and a changing cost basis. Focused on bringing optimal customer experience with personalized service and simple purchasing across platforms and devices. Disruptive competitors such as Amazon and Alibaba are already deploying this trend by providing customers with convenient digital marketplaces.
B2B digital transformation is different and relatively unique from B2C, the transformation involves updating systems, finding digital solutions, and creating united omni-channels, and re-organizing the selling channels. Nowadays, instead of going through the third person, B2B companies choose to restructure to sell directly to their customers through e-commerce channels.
B2B Digital Transformation is not only talking about and focusing on digital disruption. Digital Transformation is all about improving business processes, supply chain, customer service, products, and many other business activities through digital technologies, but it's also much more than technology, it's also about transforming organizations culture, organization, business models, and market approach. For years and years, established B2B companies have been resistant to change, however, Digital transformation is just like a tsunami and it's far from over, B2B companies have to consider the change and adapt, before it's too late.
Focusing on customer experience is the key to success for B2B companies, B2B is much more complex than B2C as customer experience has to be approached in two ways which is individual and organizational, both approaches are equivalently important and dictate how successful the company is. A good experience will be one that removes complexity of the process from the earliest basic engagement to the process of buying the products. A good customer experience is the one that facilitates simplicity and convenience throughout all journeys.
The best B2B digital transformation should be based on customer needs and how they can be met with technology for seamless experience. For instance, customers at ING commercial bank have been accessing their account through various channels and logins, making it complex and inconvenient for customers, through digital transformation the bank could enhance customer experience, customers could easily access their accounts from single digital points. This kind of external change also allows internal teams or employees to easily track each customer's behaviour for their decision making purpose in the future. For ING, digital transformation also provides them with more personalized products and services, the result is ING's profit grew massively up to 23% and they were also rewarded as Best Bank by EuroMoney. From this example we can conclude that digital transformation takes place internally and externally, it transforms the overall company from in and out.
B2B companies tend to be much slower in adapting to new changes including digital transformation. One of the major reasons for this is a complex B2B environment, they have longer deal cycles that involve RFP processes and oftentimes they are required to negotiate with other parties. Another reasoning that stops them from adopting any kind of changes is they tend to not see the need for change and oftentimes are unmotivated for a large structuring, especially if the company couldn't see any visible financial results from the change.
The Conclusions
In order for B2B companies to successfully leverage digital transformation, there must be buy-in from top leadership. Digital transformation will only be fully successful if everyone is onboard, it requires a complete cultural shift to find digital solutions that are centered around customers' needs. Digital transformation is the only way an organization can shape their future customer experience, companies that don't join the transformation have a very high risk of being left behind.
Volantis helps organizations across various industries to accelerate digital transformation through advanced technologies such as Artificial Intelligence, Machine Learning, Big Data, Analytics, and many more. Solving businesses most complex problems, predicting business outcomes, and automating the process. If you'd like to know more about digital transformation, please consult with us for free.
click here