How AI empowers the E-commerce Industry?
Rapid growth and advancement of AI all over the world has benefited many fields such as customer service, retail, customer support, logistics, etc. E-commerce is one of the industries that is mostly benefited by the existence of AI, in fact, the industry is now dominated by AI. AI-based systems have become more significant, e-commerce companies are utilizing AI on various techniques to corporate AI in different aspects of their strategy. In another word, AI is also revolutionizing the mobile app world and the whole structure of business such as improving user experience and brand awareness.
One of the reports predicted that in the year 2040, 95% of shopping will be facilitated by ecommerce. The world of e-commerce is growing rapidly and expected to hit 4.48 USD trillion in 2021. Being aware of how powerful AI can influence your business can help business' owners to optimize their business. This article will cover the major aspects on how AI can empower the e-commerce industry.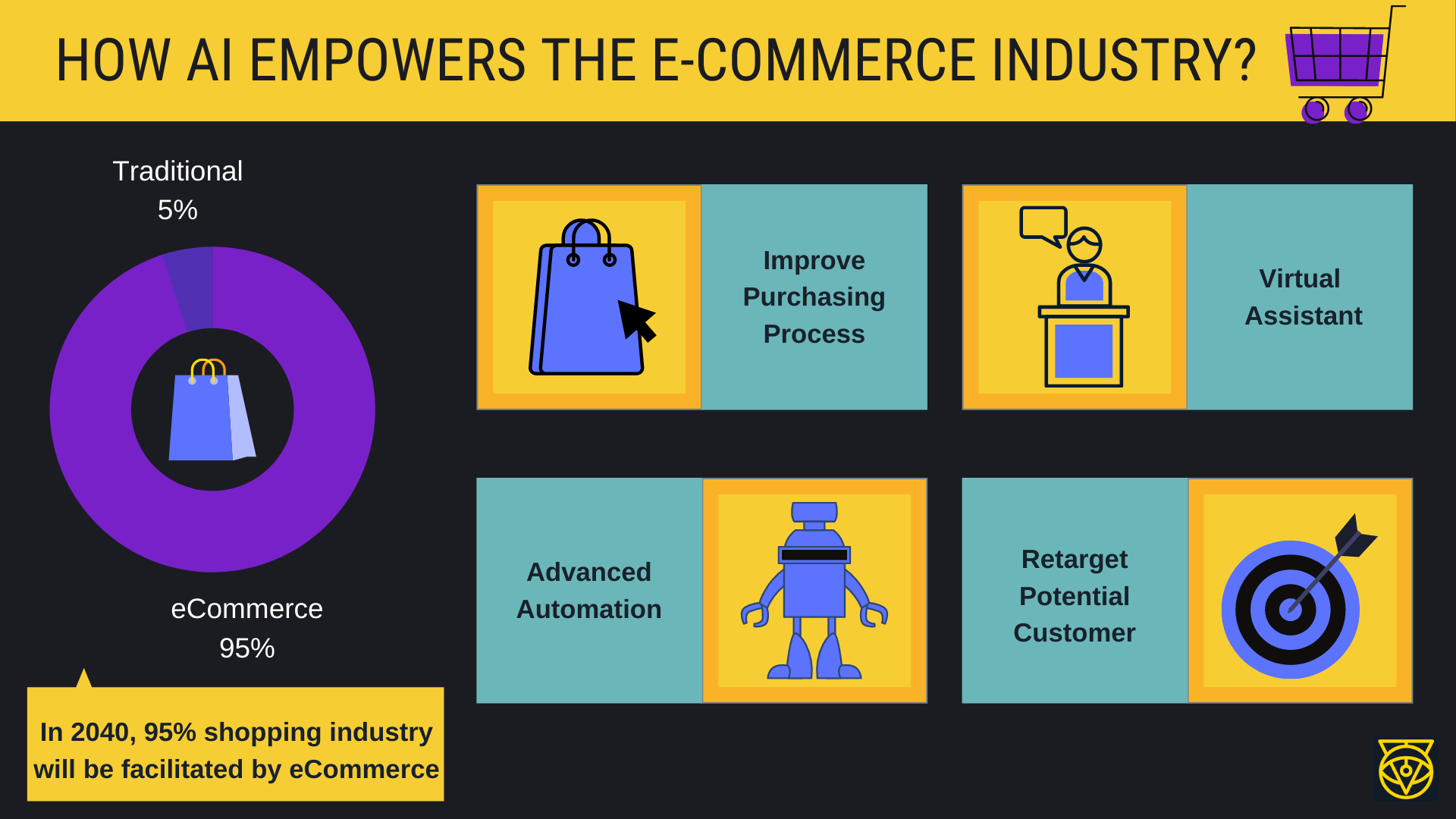 Virtual Assistant
Virtual assistant is a software application that can perform verbal or written command-based chores for a user. The famous examples of AI assistants are Siri, Google, and Alexa. Virtual Assistant might not bring out immediate impact to the company, but the present is crucial. Utilizing Virtual Assistant is the same as employing someone who's always awake and giving the business important updated information, it can handle multiple tasks, give service to many customers, and operate 24/7. It's able to provide solutions even without human interventions, which makes Virtual Assistant hold a crucial role for the business.
Virtual assistant is contributing largely to improve customer experience by providing more interactive solutions to the customers and provides real-time voice assistance, it can effortlessly navigate the language, interpret, and understand what customers need. Other than that, Virtual Assistant has changed the purchasing process for customers, for instance, Starbucks launched 'Starbucks Barista' in 2017 that allows customers to use their voice to place orders, Starbucks Barista collects data from customers about their purchase history and preferences that can be used to create high personalization.
Personalization
Personalization in e-commerce is about presenting an individual's preference such as product recommendation and other data related to customer's behaviour and demographic. Personalization exist even before AI is invented, however the personalization is very limited and mostly not accurate as it is based on a guess. With the advancement of AI and machine learning, the e-commerce industry has begun to understand personalization on a whole new level. The implementation of AI allows businesses to customize their marketing campaign and engage with its customers. Other than that, personalization can generate 15% income increase for those businesses who use a personalized e-commerce model according to Gartner.
Automation
The needs of customers have changed dramatically, there's a plus point for businesses who allow 24/7 service to its customers. Automating customer support can save time, energy, and money. AI plays such a crucial role in automating e-commerce, along with the increase of success in e-commerce business is the number of repetitive tasks. Automation is in charge to effectively execute these repetitive tasks, simplifying front and back office. Automation enables various aspects of business to be more efficient such as presenting new items on different channels, apply discounts to loyal customers, recognizing high-risk transactions, etc. The main benefit from automation is by making these repetitive daily tasks handled by AI, the company is able to concentrate more on challenging requests.
Retargeting customers
Many e-commerce companies are already developing retargeting initiatives to attract more customers, however there's no assurance that the efforts will be successful or even worse such inaccurate retargeting that the efforts are wasted on unlikely customers and the real potential customers are never contacted. This is where AI comes in and offers just the right solution to e-commerce companies, AI can automate marketing to collect behaviour and intention information, so the stores can offer creative advertising and digital promotional to persuade buyers. Throughout the transaction process, AI could monitor customers behaviour, reviews, tastes, history, and demographics information. AI immediately evaluates data to identify potential trends. This is how AI enables retargeting potential customers by monitoring the customers during their purchasing process and even after they leave the site by presenting the ads on other websites, apps, and browsers.
Boost Ecommerce Sales Process
Integrating AI to business' CRM is a good way to improve efficiency of the sales process, with the power of AI, your business is able to revise issue-solving alternatives to create powerful messages for sales purposes. Many AI systems allow natural language learning and voice input, enabling the CRM system to respond to customers by answering their questions, solving problems, and discovering new prospects. AI has the power to boost the ecommerce sales process by decreasing cart abandonment rate, which refers to the rate where customers cancel their checkout process. AI has successfully decreased the cart abandonment rate worldwide in 2019, by 69.57%. The depreciation in cart abandonment rate has significantly boosted company's sales. Other than that, it's also useful to follow up any inquiries for any abandoned cart, furthermore, AI provides information on why the customers cancel their purchase.
The Conclusions
eCommerce stands to benefit enormously by AI; it shapes the buying and selling experience for both customers and companies. More and more companies are willing to invest huge amounts of money to experience the advancement of AI that's able to boost the whole ecommerce industry. Many companies use AI to better understand customers, generate new leads, and provide advanced customer experience. Transform your business with AI technology, learn more about AI platform
here