Organizations marketing strategists are taking advantage of the huge leaps in technological innovation to reach the customers when and where it matters. If companies fail to capitalize on advances in technologies such as AI (Artificial Intelligence) can lead to low customer level engagement compared to their tech-enhanced competitors.
For decades, the standard model for targeted marketing has been to find similar behavior on consumers and group them based on that, then produce mass content, products, or services to fulfill the needs of each group. However, in today's world, where hyper-personalization is possible, this trick of "good for the goose, good for the gander" is not relevant anymore. The reality of the market is everyone is unique, that each customer has their own persona and preference. Thanks to the advanced technology of AI, the marketing industry is now able to accurately find, connect, and convert the prospects.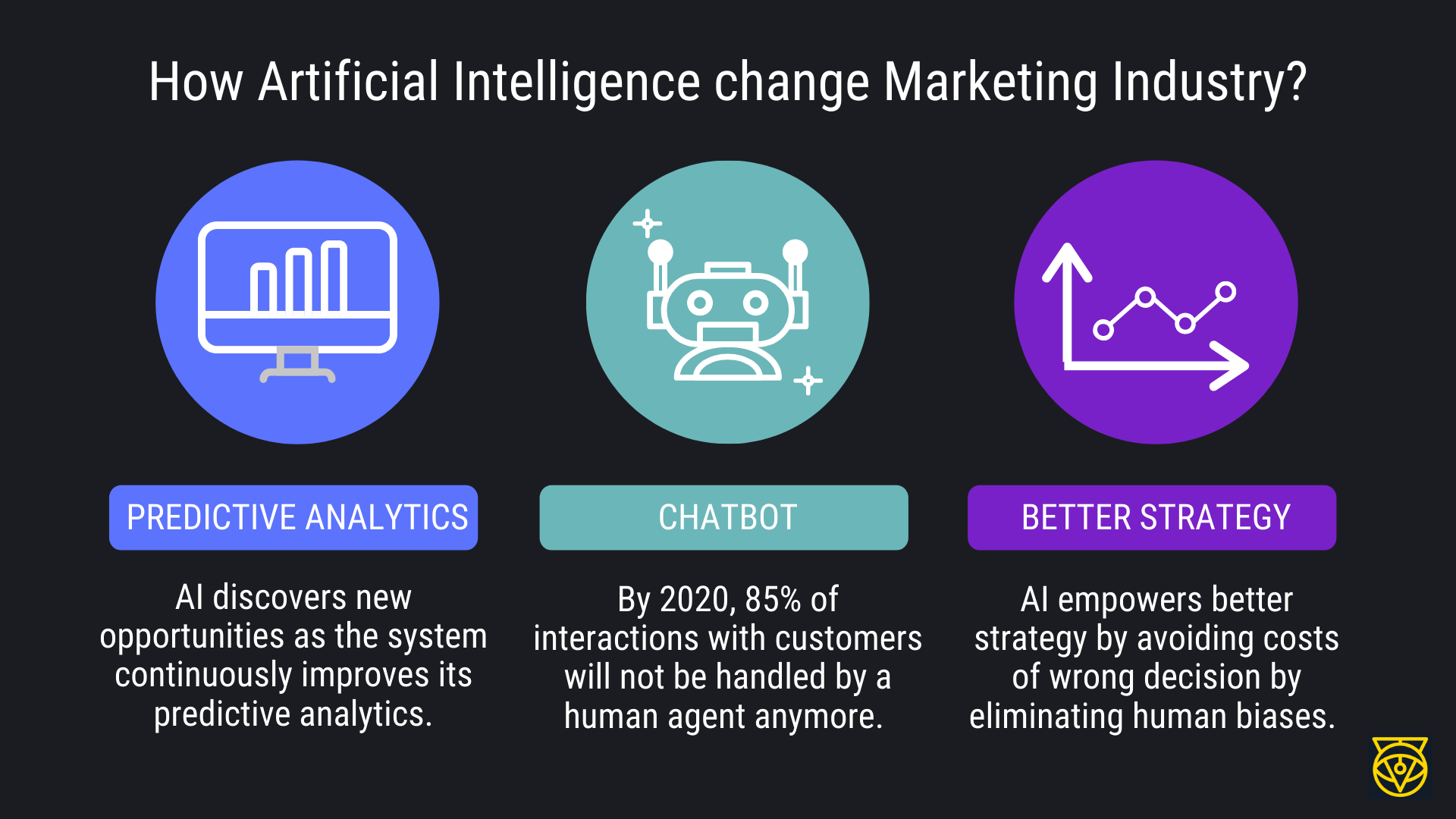 According to Forbes, the adoption of AI and Machine Learning in sales and marketing is the fastest among other enterprises. Machine Learning is the branch of AI that uses advanced algorithms to build models that discover correlations between data, the concept based on the idea that systems can learn from data, identify patterns, and make decisions with minimal human interventions. If you're wondering how marketing AI is used in reality, the best example would be Netflix, to speed up content localization and preference, robots can create layout options for content banners based on hyper-personalization. For instance, the same Netflix series would appear with a different banner for different users, user A that prefers romance movies will have a romance-related banner, while user B that loves actions will have an action-related banner.
Better marketing strategy
Netflix has created a successful AI marketing strategy, allowing each user to feel like they are taken care of and increase brand loyalty as users feel as if Netflix knows them in person. AI improves customers' experience and helps conversion, Marketing AI on the website is able to gather data to create customer high-personalization, providing valuable information for business every time customer visit their website such as location, user behavior, mobile device, user-relevant experience, etc, the aspects that are important to build high-personalization approach. Personalization is a powerful driver for conversions. AI empowers better decision making, a business can avoid huge enormous costs of wrong decision by eliminating human biases and errors. One of the important aspects of AI marketing is the ability to look into buyer personas, a fictional representation of buyers that help the business to make well-informed marketing decisions. There's a case study that found out about website effectiveness, it is stated that a website that carved on its buyer persona resulted in an increase of 900% visit duration and a 171% increase in marketing-generated revenue. AI modeling techniques of buyer's psychology and purchasing behavior.
Social media Marketing
"AI does an exceptional job of gathering data about businesses' potential buyers, which allows you to create an accurate buyer persona." Says Alexei Vennerei, CEO and CO-founder of Digital Air Strike. AI discovers new opportunities as the system continuously improves its predictive analytics. In social media marketing, AI uses sentiment analysis to better manage marketing operations. It's suggested that 45% of the total population of around 3.5 billion people all over the world use social media every day, making social media is one of the biggest gold mines for insight. By suggesting the marketing activities that yielded the best result, it's able to promote cost-efficiency and guide business in developing their future strategy. AI monitoring tools can tell businesses how people perceive their brands, this way brands gain insight on what to be improved and what is not working with marketing strategy. AI offers information such as thought influencers, customer sentiment, trending topics, and specific brand mentions.
Improve customer experience with a chatbot
With the help of intelligent chatbot, businesses are able to provide customers with intuitive, responsive, and dynamic 1-to-1 communications that address customer's needs and help them identify helpful service. For instance, Shell company introduced a chatbot called Shelly, to help customers to figure out which enhancements are the most important for their vehicles. Shelly's not only promoting customer engagement with the brand but according to Mansi Madan Tripathy, the managing director of shell India, Shelly also reduces downtime such as cutting customers operational cost by 25-30%. Chatbot also allows the fast collection of feedback from customers, feedback is one of the crucial aspects in improving any business, it's a real measurement of customer satisfaction to guide businesses whether they have done the right thing or not. It also acts as inspiration tools, through customer feedback, businesses are able to discover weaknesses and figure out solutions.
Monitor Competition
Not all businesses have the tools and resources to monitor competitive marketing benchmarks, AI is also able to simplify the overwhelming tasks of tracking competitors with competitors analysis tools. Allows tracking through various channels such as social media, websites, and mobile apps. Social media monitoring gives the company the idea of what competitors are doing and the business can closely deploy social monitoring. Businesses are able to identify complaints raised by competitors' customers and effectively counter competitors' complaints with alternative solutions. By monitoring competition, businesses are able to have a clear understanding of what's going on in the market in order to have a better strategy.
Conclusions
By 2020, 85% of interactions with customers will not be handled by a human agent, from valuable insights to the personalization of products, AI in marketing has already driven some of the biggest advances to improve customer experience. Marketing leaders who don't implement AI will be replaced by those who do, as AI becomes more and more significant to businesses. The marketing team will be put under pressure to demonstrate value and ROI to stakeholders, with these high expectations, the only solution for this is to implement AI to achieve the targets and better allocate funds.
It's never too late to implement AI in your marketing, it's better to start now than never. As elaborated above, there are infinite opportunities and benefits that businesses can get from implementing AI for marketing. If your business is interested in learning more about AI marketing, please do contact us for a free consultation, we're happy to help!
click here