With COVID-19 cases increasing worldwide, business leaders are faced with a variety of obstacles, from decrease in sales to delay in supply chain while maintaining the sustainability of business and employees. The coronavirus is definitely changing how the world works and also business. The rapid spread of coronavirus reminds us how our well-being interconnects from one another, forward thinking leaders should focus on giving extra value to customers by creating conditions that allow both organizations and customers to be more helpful regardless of the situation.
There are three barriers that prevent the companies to engage productively in order to be more helpful: 1. Not being able to help, 2. Not knowing how to help, 3. Not believing the help is important. These are the organizations that have succeeded in helping their customers be more helpful and have found ways to overcome all three barriers. For instance, Cinemas have identified a concrete and helpful customer behaviour such as silencing phones before the movie begins, it's a simple reminder that demonstrates why it matters to everyone to eliminate interruptions during movies. When it's clear that organizations' engagement is helpful for everyone, this kind of regulations that benefit everyone should be established during the pandemic crisis. Organizations are required to be sensible and responsive during this time.
In this moment of crisis, organizations are trying to stay productive, thus, remote work has become exceptionally effective during pandemic, organizations are allowed to reconstruct how the communication and coordination happens. According to a research done by Prithwiraj Choudhury, remote work benefits both parties, organizations are able to reduce the office costs and employees are more productive while working from home. However, isolation has to be balanced out with encouragement for employees to develop mental stability by exercising at home, meditating, etc. I would like to focus on how organizations should reconsider the way they do business. Organizations are recommended to take the following actions to reimagine how work should be done, below are the elaborate explanations on how organizations should be done.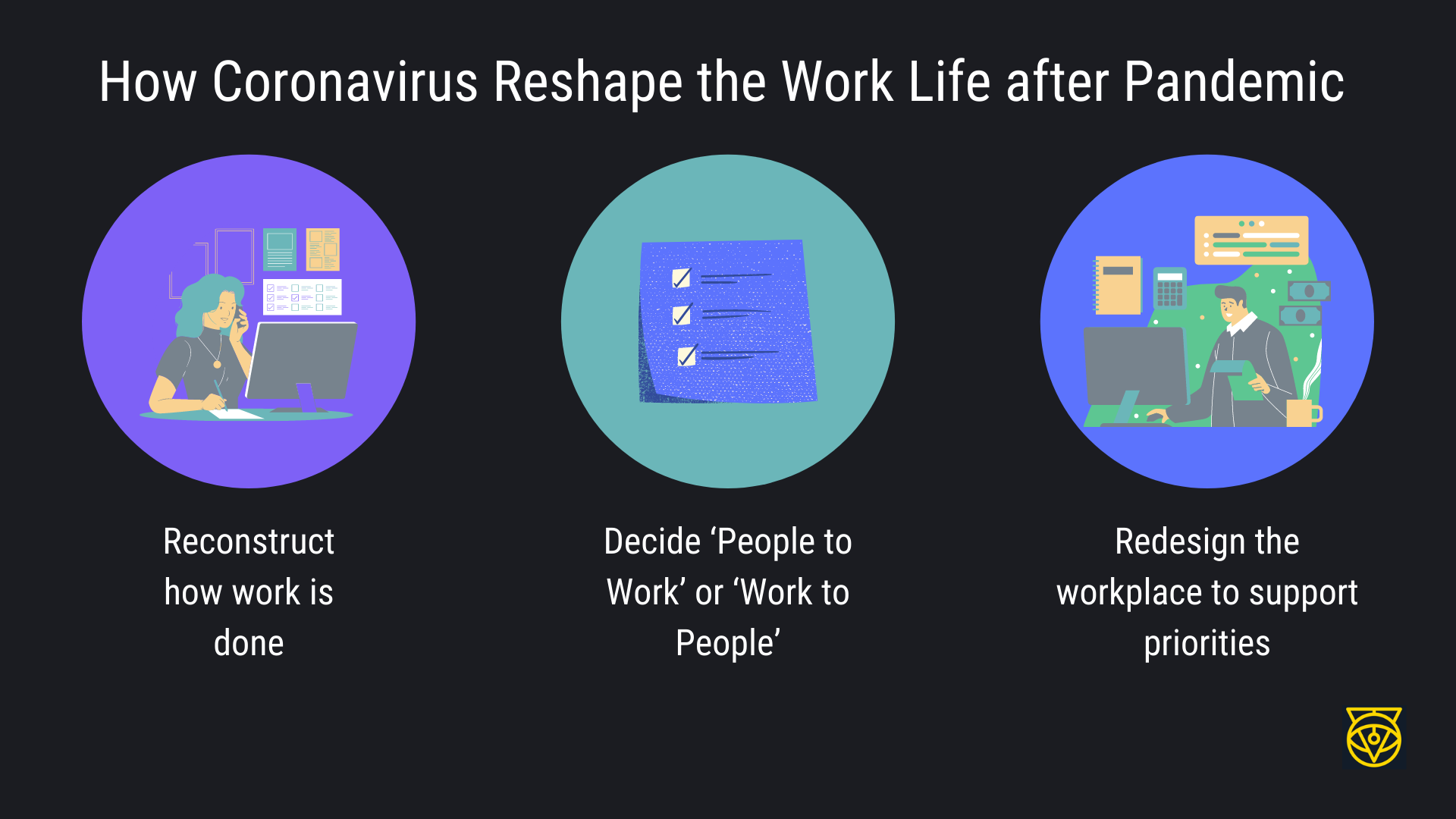 1.Reconstruct how work is done
During pandemic, organizations have to adapt to the situation and ensure that the job could be processed remotely. Most organizations are already shifting to remote works, this method has worked well for some organizations, but not for some other organizations. Organizations are required to identify what are the important processes for each major business division. This effort should examine their professional-development journeys and different stages of the process.
Organizations should also re-consider their value and culture, focusing on how the employees in organizations should interact and practice the organization itself. For instance, organizations that focus on nurturing talents, should ask whether the mentorship that practice in the office could continue in the digital world. It's obviously important to discuss and reconstruct the way work should be done, as our world is leaning towards digital day by day, and accelerated by the pandemic. By doing so, the company leverages its maximum potential both in-person and remote work.
2.Decide 'People to Work' or 'Work to People'
In the past couple of years, the competition between individuals in the workplace has become increasingly fiercer than before. However, at the same time, some groups of talents are less willing to relocate to their employers location. While organizations are identifying how the work can be done remotely, they should also decide what kind of job should be done physically, and to what degree. Roles can be carried out into different classifications based on remote work could deliver such as fully remote, hybrid remote, and on site.
For the roles that are fully remote and hybrid, upskilling is important but sourcing should be more efficient. High-talented employees could actually choose to live from their designated location that might have cheaper living costs and proximity to the people or places they love, while these employees still work under the organizations.
3.Redesign the workplace to support priorities
After the pandemic is over, we all have what an ideal office should look like such as cubicles, share pantries, and meeting rooms. Organizations are suggested to support the kind of interactions in the office that could not possibly happen while working remotely. Technology will have a major impact on how organizations enable employees to work in the office during and after pandemic such as which employees could come to the office, how often the office is being disinfected, the level of sufficient airflow, and many more. In order to maintain productivity and collaboration between employees, the boundaries between physically in the office and out of the office must collapse.
The Conclusions
Through this pandemic, it's proven that remote work is not entirely ineffective, in fact, remote work could bring out several benefits to both employees and organizations. Organization leaders across industries see this as a chance to experiment to reconstruct how the work should be done and most importantly what role office plays in a more bold and creative way.
Volantis helps organizations across various industries to accelerate digital transformation through advanced technologies such as Artificial Intelligence, Machine Learning, Big Data, Analytics, and many more. Solving businesses most complex problems, predicting business outcomes, and automating the process. If you'd like to know more about digital transformation, please consult with us for free.
click here