Technology has been reshaping retail banking but it has been much slower to also reshape corporate banking. Some corporate banking might have even hoped to be spared from this major transformation, but that hope will never become a reality as digital transformation is inevitable. Banks that don't transform digitally are put under substantial pressure, the world is changing for the better with advanced technology, those who refused to change will be eliminated from the competition.
Digital disruption has finally come to corporate banking, it started from new competition from digital fintech offering new solutions such as low-cost international transfer, the inventions are followed by accelerating digitization - mostly involving Blockchain, Artificial Intelligence, and Platform, enhancing products and services developed in response to client's changing expectations. Over the next 5 years, the new fintech is predicted to attract at least 30% of corporate banking revenue.
Digital transformation is not merely just about providing online and mobile services for its customers. Traditional banking is required to provide to combine digital capabilities and human interactions that are thoughtful, to maximize customer journey. One of the articles from The Financial Brand mentioned that 4 out of 5 financial institutions believe that digital will transform the banking industry's competitive landscape. However, according to research done by BCG (Boston Consulting Group), 43% of financial institutions that being surveyed don't have any digital strategy and 1-in-5 banking executives believe that their bank or credit union as a market-leading when it comes to digital. Other than that, a huge number of bank executives (86%) believe that their banking technology infrastructure is complicated.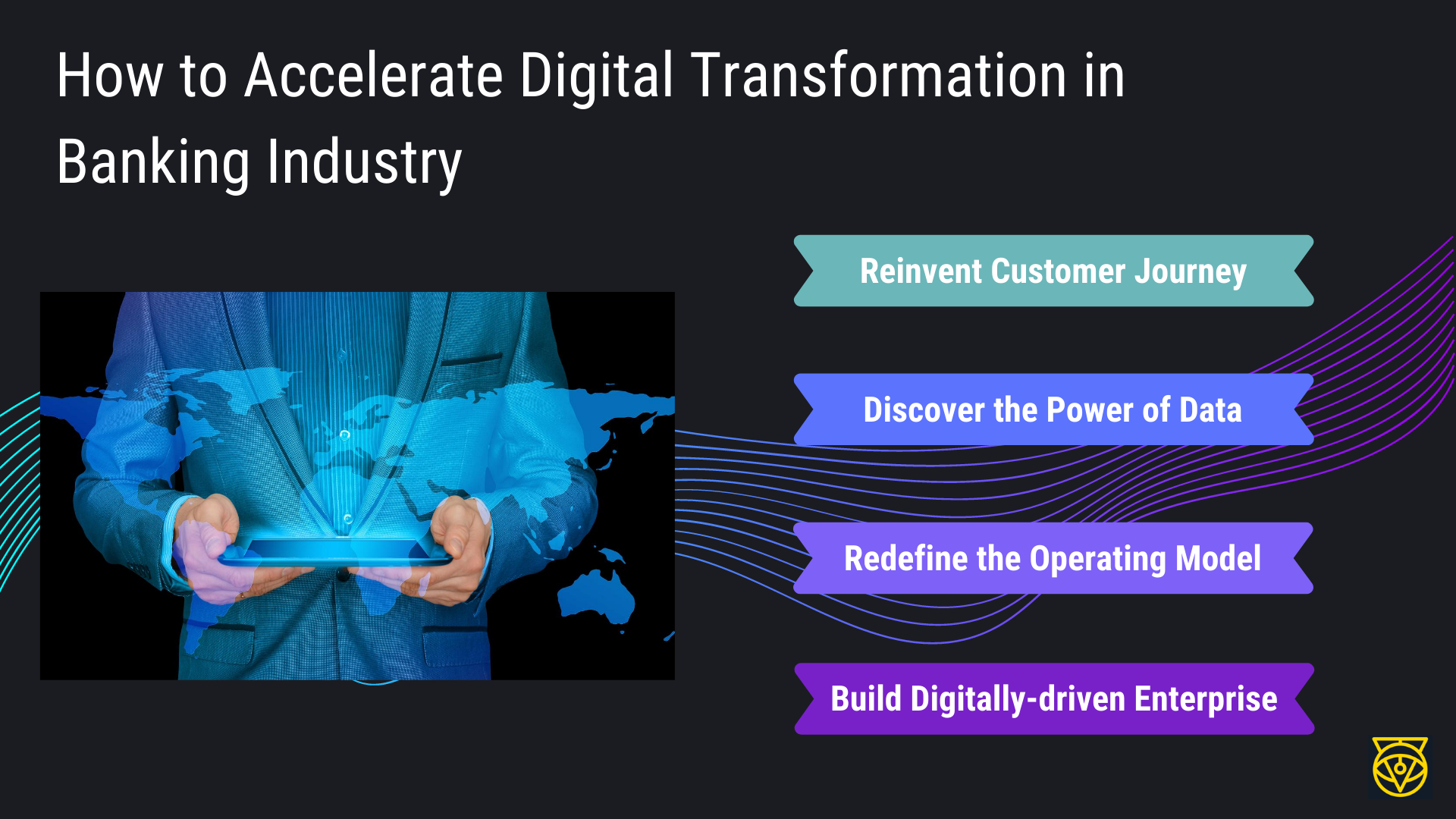 BCG stated that the starting point of digital transformation depends on its strategy, market positioning, and capabilities. But all have to reconsider to reshape its distribution models, improve their value proposition, and develop end-to-end consumer-centric journey to increase growth and customer's satisfaction. The strategy can't be taken off as individual elements, but each business unit contributes to a whole digital transformation. In order to keep up with these changes, corporations are required to undertake front to back digital transformation.
Corporate bank's digital transformation is complicated - IT systems, cultural resistance, and consequential required investments. In the first wave of digital transformation, large numbers of corporate banks launched uncoordinated digital initiatives. Now it's time for the second wave, corporate banking needs to develop a clear vision of how the banking industry will evolve along with the 4th wave of the digital revolution. Developing a clear guiding vision enables initiatives that focused on these 4 priorities:
Reinvent Customer Journey
Identify what is the important point in the customer journey and how these concerns could vary among different customers with different preferences. In the age of instant approvals and one-click ordering, clients are less interested in a non-transparent process that can stretch ours for a longer duration of time. In order to adapt, banks are required to reinvent and digitize the customer journey by focusing on three main key areas: Client-centric, Innovative technology, and End-to-end process optimization.
- The client-centric approach is all about prioritizing customer expectations, as the competition gets tougher, the standard of customer's expectation is reconstructed by tech-giants such as Amazon and Google - see it, like it, click it, buy it. Changing just a few points could create a big difference, For instance, the bank used to manually track the beneficiary owners through the company's holding structures, then manually compares the data to six different databases which process could take days. If the bank could successfully digitize the process, the process now takes only 3 minutes.
Innovative technology refers to the utilization of advanced technology in delivering bank value and optimizing its process - AI, robots, data analytics, etc. Not only these technologies are able to efficiently quicker the operation process, but it's also able to enhance their customer service. By providing 24/7 customer service, corporate banks could effortlessly boost customer satisfaction.
End-to-end process optimization refers to the automation of the process by keeping the cost down while improving customer satisfaction and the journey altogether. The automation enables the bank to standardize the process, boost speed, and eliminate waste. The invention mentioned above is not fiction, it's already happening. In a developed market such as the US, the US banks are already using an online platform to re-construct SME lending programs by offering shorter-term credit with the easy application process, the online platform enables reduction of cycle and work time for its employees while providing a more convenient experience for customers.
Discover the power of data
Utilize the advance of our technology; data analytics is a powerful tool to understand customers better, identify new opportunities, and reduce costs. Actually, corporate banks have the advantage over other competitors, it's the huge amount of data they have. Data is one of the most powerful tools to succeed in this digital era, unlocking the power of data with advanced technologies could really change the game for corporate banks. Through data, the banks are able to discover their client's preference and create a new model that match their customers. Putting the bank itself as a partner that offered highly tailored solutions, rather than as suppliers that force the products that might not be needed by customers. This can be leveraged by focusing on several elements such as Client Targeting, Share of Wallet, Retention, Pricing, and Risk Management.
Redefine the operating model
Alter the corporate banking relationship model to better account for customer needs and be open to collaboration. The concept of redefining the operating model lays heavily on extending the bionic to the virtual in order to engage actively and effectively on every stage of client life cycle. To achieve this, banks must have an operating model with cheap cost, able to deliver effectively, and also able to keep up with fast-changing demands from customers. The lead markets are already capitalizing on fintech partnership and internal incubators, this collaboration allows new achievements to happen such as launching attractive new services and reaching underserved segments.
Build a digitally-driven organization
Digital transformation is the main strategy, support this with appropriate funding, skillful employees, willingness to take risks, and openness to a new agile way of operating. Infusing a digital mindset into a traditional banking culture can be challenging while maintaining two cultures at the same time, banks are pressured to transform into a digitally-driven organization to survive the competition. Although fintech poses a major threat to corporate banking, its existence is a reality that corporate can't avoid or ignore. Instead, corporate banks are suggested to team with fintech when appropriate to incorporate new ways of digital operations and interacting with customers.
The conclusions
In the past, corporate banks have done several digital initiatives, but with tougher competition, banks are required to develop a more coherent digital strategy to win the game in this digital era. The path won't be easy, but it's possible. Every digital transformation will need analysis from a strategic perspective. Initial market positioning and capabilities assessment are crucial.
Volantis help accelerate digital transformation, unlock the power of data, and turn your organization into a data-driven organization that is ready to compete in industry 4.0.
Reach us
for more information.