Digital transformation is significantly improving an organization's performance. Tougher competition, advanced technologies, and demand from customers are forcing organizations to operate with more creativity and agility than ever before. Leaders from all industries are innovating through digital creatively to get ahead of the competition. One of the most effective ways for any organization to achieve digital transformation is through leveraging social media.
Many still perceive social media as a supporting aspect of their business, little did they know that social media has a huge impact on their business strategy. This article is about to change your mindset about the role of social media for your organization and influence you to prioritize social media management as you realize that it's part of the core strategies. 3.2 people in the world are online and spending most of their time there than watching TV, this means traditional marketing strategies are irrelevant to nowadays customers.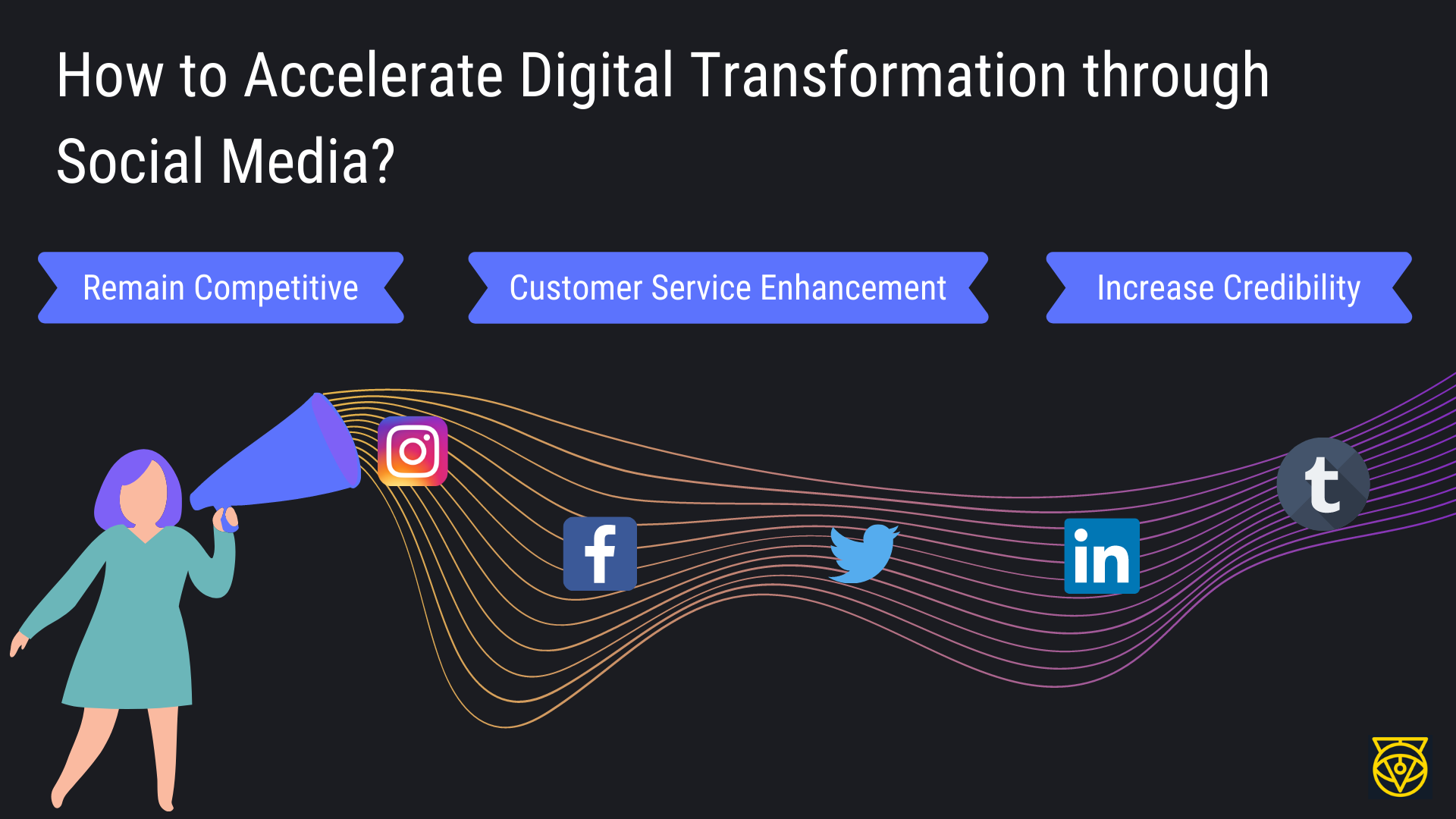 What is Digital Transformation?
In order to understand this article in a deeper manner, let's take a look at the definition of digital transformation. Digital transformation is the combination of advanced digital technologies and all aspects of a business, conceptually, changing the way you do business to meet customer's needs and keep providing value through the use of digital technology. Digital transformation is necessary for any business ranging from small to big enterprises.
The term digital transformation has been circulating throughout the different formats such as research, news, article, etc. However, business leaders are still struggling to understand what it really means to digitally transform the business. Some leaders even feel that the term "digital transformation" is so widely used that it's become unhelpful. This is hard to explain as digital transformation doesn't only refer to one single thing.
Digital transformation will differ from one company to another, there's no generalization of digital transformation. For company A, the digital transformation might mean utilizing social media to leverage digital exposure, but for company B, the digital transformation might be the advancement of operation system through robotics machines. There are also different stages on how advanced is your company transforming, regardless of the level, it's better to start transforming you organization as soon as possible before the law of nature remove your business out of the competition.
How do you actually accelerate your digital transformation through social media?
Customer Service Enhancement
Incorporating social media into your digital transformation allows you to keep your business strategy updated according to customers' feedback. There's increasing pressure for an organization that has multiple delivery channels, to make these channels experience integrated and seamless. Social media also allows easy communication between organization and customers, an organization can effortlessly know the feedback from its customers, be it positive or negative through social media, collected feedback is the guidance for better business strategy. One of the examples of prioritizing customers through social media is American Express, which uses social media to address complaints, questions, and inquiries. By using social media, the company can respond quickly and effectively to each of its customer's demands.
Increase Your Credibility
Social media allows organizations to express themselves in a fun and engaging way, high engagement lead to high credibility. Providing content that relevant to your audience is crucial, it's free promotion when your audience shares your content with their friends and family, gets immediate visibility. Treat your social media as an asset, it's in fact a digital asset. Humanize your company by providing fun engaging content to your audience, it's not advisable to only post about your company's products and services, your organization is still able to provide value through creative and fun content through daily infographics, content, and contests.
Remain Competitive
In this digital era, most of the businesses would have social media, making it easier for the organization to analyze and compare competitor's strategy. Social media also provide great navigation for businesses to understand the current trends, enabling organizations to stay relevant in this competitive and constantly changing world. Organizations are required to be flexible, quickly adapting to the changes in the market is a good quality to remain competitive. Good social media management will also lead to high customer trust if the majority of customers are loyal to your brand, this can bring you to stay ahead of the competition.
Utilizing big data to gain insight from social media
Social has become a significant part of everyone's daily life, it's not just merely used to connect with others, businesses use social media to Big data brings a whole different level of analytics into your business, many organizations are willing to invest a huge amount of money to discover their social media analysis. With the emergence of big data, social media marketing has reached another whole new level. In 2020, big data will reach 44 trillion gigabytes, with that amount of data, organizations are able to gain insight. Big data unlock the true potential of your business through social media personalization, business decision making, effective campaign, and product insight. Personalization allowing organizations to approach customers in a more sophisticated way based on customers' unique preferences. Providing a holistic understanding of the real market, which helps organizations to create tailored communication to elevate brand trust.
Integrated social media insight provides clear navigation for business leaders to better decision making, creating a custom strategy based on the data shown by the advancement of big data. Organizations can easily develop customer persona through big data, enabling them to create winning strategies. Instead of relying only on past experiences and guessing which one would the best suitable move, big data allows personalization to a certain extent that it provides predictive analytics. Big data analytics also able to guide organizations to create effective social media campaigns, identifying what kind of content, which social media channel, and when to post to bring out the best result possible out effort that has been done. The analytics even able to provide specific information such as customer's buying behavior or customer's purchase journey, helping the organization to tune in at every process of the whole journey.
The Conclusions
There will be continuous growth in the number of people interacting with organizations through social media, making social media as the basic requirements and the crucial aspect for any company who wants to turn digital, this is why social media should be one of the core parts of an organization's digital transformation. Learn more about digital transformation and how easy it is to actually to transform your business to compete in industry 4.0 . Volantis offers free consultation to help organizations accelerate digital transformation.
click here
for free consulation