According to PwC research, "Industrial leaders are digitizing fundamental functions within their internal vertical operations as well as horizontal partners along the value chain, enhancing the products with digital functionalities and introducing innovative, data-based services. At the end of this transformation, successful industrial companies will become a truly digital enterprise."
The fourth industrial revolution or known as Industry 4.0 represents fundamental changes in our life such as the way we live, work, study, and interact with others. If our journey on earth was a book, Industry 4.0 would be the new chapter of human development, enabled by advanced technologies that merge the physical, biological, and digital worlds together. This revolution forces us to re-observe various aspects of life such as what it means to be human, how countries will develop throughout the transformation, and how organizations create value in the new digitalized era.
Industry 4.0 will drive many innovations like never before, changing our world that we know significantly. The core of the Industry 4.0 revolution is technological advancement, technology has always been one of the causes of disruptive innovation. Disruptive innovation is a phenomenon of innovation that changes existing products, customer preferences, and current market conditions by introducing a more convenient alternative. Clayton M. Christensen, Harvard Business School professor has revolutionized the concept of disruptive innovation, which referred to as *the technology mudslide hypothesis*. The hypothesis basically states that an established firm fails because it's unable to cope with the technological advancement of competing firms. The revolution is happening faster than we think, that's why It's crucial for organizations to start transforming digitally in order to stay competitive.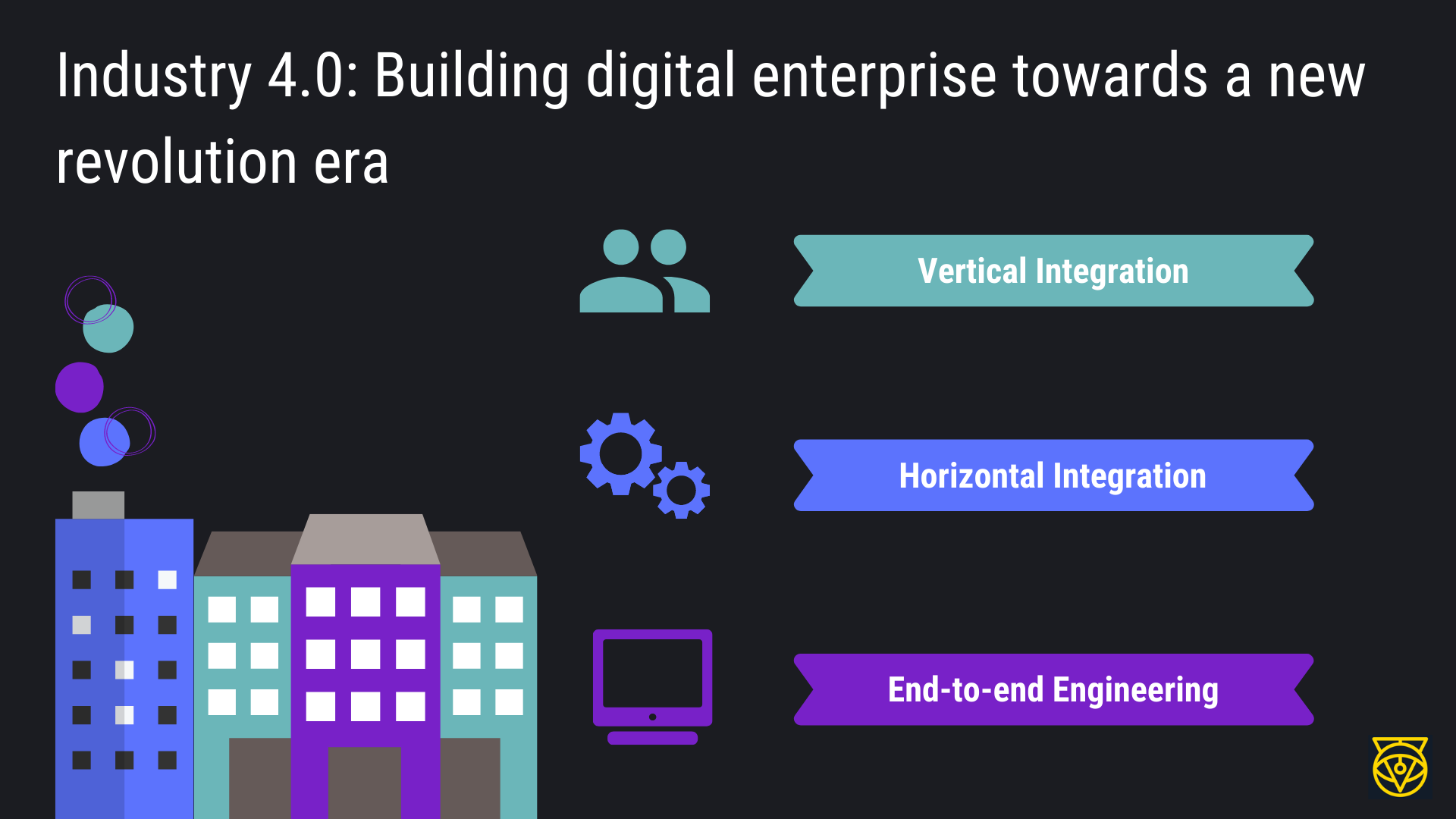 This revolution is changing both companies and market dynamics across a whole category of industries, in developed and developing countries. PWC surveyed over 2,000 respondents from 9 major industries and 26 countries. Here are the things that driving the changes according to the PWC report:
Increase in Revenue
It's predicted that there will be 2.9% increase in revenue on average generated from digitalization, and there is a significant minority that expects more than a 50% increase over the next 5 years. This adds up to USD $493 bn for all the sectors that have been surveyed.
Reduce Cost
On average, digitalization enables shorter operations times, higher asset utilization, and maximum product quality. The survey respondents expect to save USD $421 bn each year for the next 5 years.
In order to generate these additional revenues, the companies need to plan and act accordingly towards a brighter future. Companies are required to innovate their products and services, introducing new industrial products with technology features and digital services based on data analytics. A strong commitment to investing in technological innovation will help smooth out the digital transformation; industrial sectors are planning to invest around USD $907 bn to industry 4.0, the major focus out of this investment is digital technologies like sensors, software, application, etc.
One of the biggest challenges of digital transformation is not the technology but the people. Digital technologies are already growing rapidly, but digital enterprise success does not merely depend on technology, it's largely depend on the organization's digital IQ, especially how educated the CEO, CTO, CIO define, communicate, and lead the digital transformation. Enhancing organizational structure and skills with data analytics is critical. Change is not comfortable but change is necessary.
Digital trust is also the key, after supporting the organization with technologies, and educating the people with the right mindset about the transformation, ensuring trust between organization and technology is important. The digital environment couldn't function maximally if all parties involved do not trust the security of their data and communication. The key findings from the report stated that no industrial company can ignore the significant changes that industry 4.0 brings.
In order to successfully adapt to Industry 4.0, there are 3 main features that need to be taken into account, which are (1) horizontal integration via value chains, (2) vertical integration of the internal system, (3) end-to-end engineering of the overall value chain. Horizontal integration refers to the acquisition of the company that targets the same customer base with different but complementary products and services, with this method, the company can increase market share and diversify its products. Vertical integration refers to the capability of the company to bring a new solution to the table such as cheaper and faster manufacturing, respond quicker to market opportunities, secure access to important resources, etc. While end-to-end engineering enables customization creation of products and services across value chains. For instance, in a product-centric value creation process, the activities involved generating customer needs analysis, product design, development, etc.
The conclusions
It's crucial for organizations to prepare themselves to face such huge changes enabled by advanced technology. Industry 4.0 will drive such transformation that inevitable to avoid, the only way to sustain the business is by adapting. There are various aspects to be focused on to transform your business into a digital enterprise that is driven by data and equipped with advanced supporting technologies. Volantis has enabled digital acceleration for organizations across industries, contact us for a free consultation.
Click here