The volume of available data has grown aggressively, more advanced algorithms have been refined, the storage and computing power have steadily improved. The concurrence of these advances is driving technological movement and business disruption. "Analytics technology has evolved to a point where it adapts to the needs of employees and customers, users are no longer forced to adopt traditional approaches," stated Alexander Linden, research vice president at Gartner. However, making sense of data can be quite challenging especially when the volume is so huge, it's very overwhelming. McKinsey Global Institute estimates that businesses actually only capture one third of their data potential value.
It's clear that data is a valuable asset, but businesses are struggling to use it effectively. The Business Reality Check found that using data effectively is a top priority challenge today, the executives are more concerned about cybersecurity and overall technology pace change may underestimate. How exactly businesses could overcome these complicated issues to digitally transform their companies and be able to compete in the age of analytics? This article will cover a brief explanation of analytics and data science history and provide you with current competition in the age of analytics.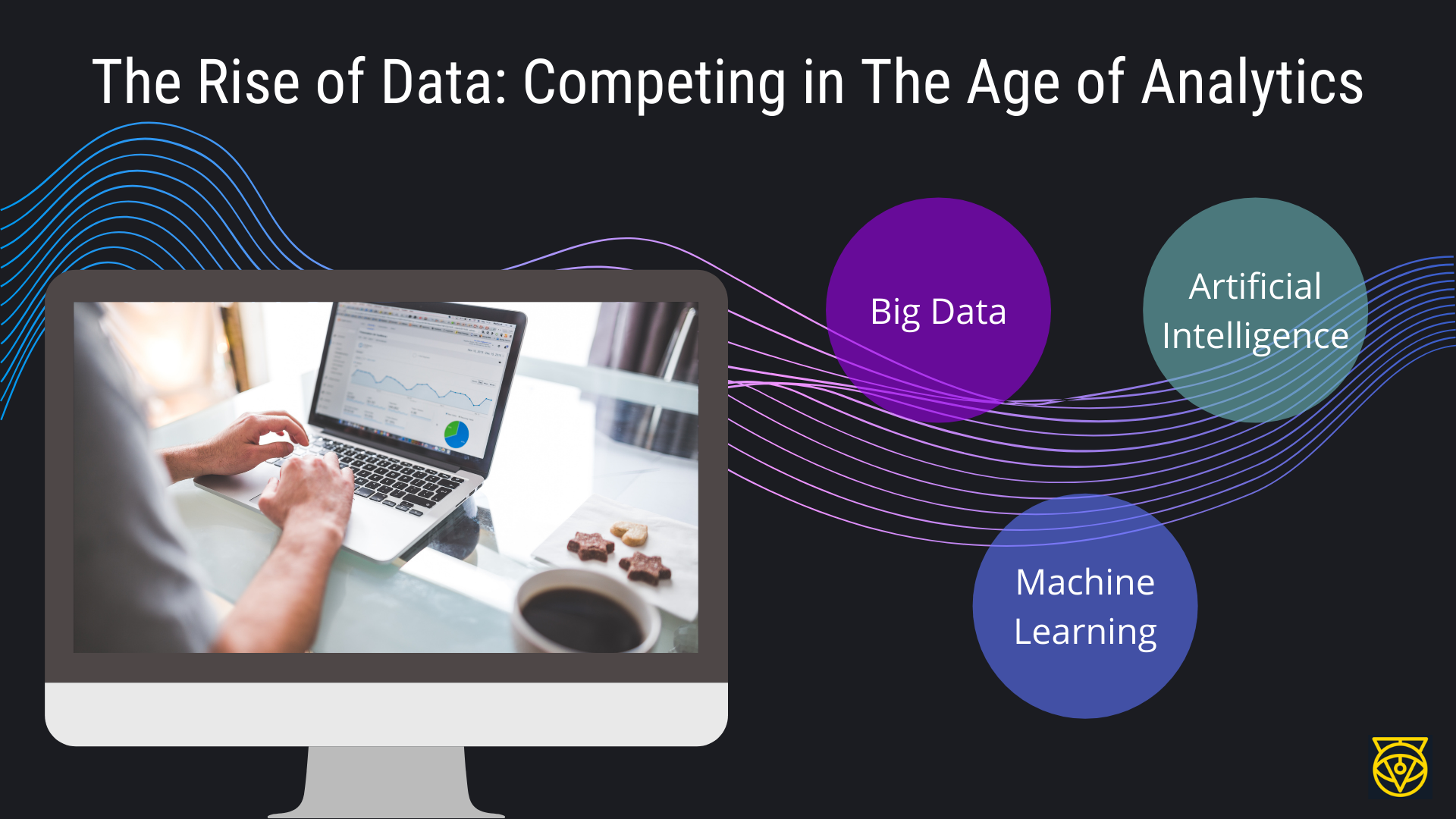 The Four Eras of Analytics
The history of data science and analytics is extraordinarily brief compared to other areas such as chemistry, biology, and other fields. Professor Thomas Davenport from Harvard Business School delivered his keynote address on the history of data analytics at Open Data Science Conference East 2017 in Boston, titled The Four Eras of Analytics and Data Science.
The First Era: Artisanal Analytics
According to Professor Davenport's view, data analytics started in 1975 and he called it Artisanal Analytics. This methodology was primarily explained about producing insight for decision-makers using structured data sets. From a business perspective, data analysts in the 1970s played a slightly different role than the data analysts of today. The analysts were focused on predictive analytics models that based on human hypotheses and this took a significant amount of time to refine. According to Professor Davenport phrasing, data scientists was not out at the front but of a "back-room" support member. Even though the data analysts in the 70s are not as advanced as modern data analysts, they still did make a compelling contribution that continues to be used such as business-oriented analytics and rudimentary visualization.
The Second Era: Big Data Analytics
As Silicon Valley began to flourish in the late 90s and early 2000s, the volume and variety of data for data scientists significantly increased. Professor Davenport stated, "I must confess that when I first started hearing about big data and data scientists and so on, I wasn't entirely sure that this was anything really that different from the sort of analytics that I had been talking about and writing about. So I started to study them." In this second era of analytics,the role of data scientists was to be in charge of decision making itself, not just being a supporter of leaders from the rear. This is as suggested by Dhanurjay "DJ" Patil who was Professor Davenport's partner, he stated that, "data scientists need to be on the bridge… right up there with Captain Kirk."
The Third Era: Data Economy Analytics
Around 2013, another major invention occurred. Big tech firms found ways to manage their huge data sets, they also found ways to commoditize them. In addition to building products according to the data sets these companies have collected over the years, they also began to sell the data. Industrialized decision making at scale became the new way of leveraging data. At this stage, business analytics became unrecognizable as models were unresponsive to new information.
The Fourth Era: Autonomous Analytics
According to Professor Davenport, we haven't entered the new wave of analytics, which is autonomous analytics. The fourth era of analytics is characterized by an even stronger role for autonomous decision making or the closest definition would be Artificial Intelligence. In this era, machines not only perform the analysis but also act on the insight, enabling faster and more efficient decision making than any human could. Many automation alarmists claim that AI and Machine Learning methods will replace existing jobs, but the Professor doesn't agree with this, he stated that data scientists who refuse to update their toolboxes are the one in the crosshairs.
Analytics Leaders are Changing the Nature of Competition
There is a major difference in performance between technology-based companies and average companies - in some cases creating winners-take-most dynamics. Leaders such as Apple, Google, Amazon, Alibaba, and many more, these companies have established themselves as the most valuable companies in the world. The leading global "unicorn" companies are the organizations with business models that predicated on data and analytics. The relative value of assets has shifted, previous titans of the industry poured billions into equipment and manufacture, while the new giant tech is investing heavily in digital technology, data, and analytics talent.
New digital players capable of deceiving the traditional barriers to entry such as the requirements to build fixed assets. Amazon challenged the rest of the retail sector without building stores, fintech is providing financial services without having any physical branches, Netflix is changing the whole media landscape without connecting cables to customer's homes. These giant tech companies also have the advantage of adding new business lines and other kinds of expansion that blur out traditional sector boundaries. For instance, Apple and Alibaba offered financial services and Google is now working on autonomous cars. The importance of data has also altered the traditional relationship between customers and organizations. The data is so valuable that in some cases, these companies such as Linkedin, Twitter, Facebook, and many more offered free services to obtain customers' data.
Data is the heart of disruptions occurring across the economy, it has become a critical corporate asset and business leaders want to know the worth of their data. However, the value of data depends on how and by whom it will be used. The data is only valuable if managed and treated in the right way, a piece of data may yield nothing or it could be the key to new product launch, it all depends on the organization. Digital transformation always emphasizes on unlocking the power of data, not merely just using the data.
The majority of businesses are collecting and managing data by function, processing the data with different software for different business departments, this leads to data silos within various departments such as product, marketing, sales, etc. Integrated data help companies to get a better value and understanding, forming a full picture of their customers. The market data provide information on why 32% of leaders find it hard to share the data internally that can be accessible for everyone within the company. In order to turn this vision into reality, businesses are required to have a strong IT team, but according to research done by The Economist, businesses investment on IT is at its lowest since The Great Recession 2008 - 2009. Medium-sized enterprises are challenged by the time and cost to invest in big data and keeping with customer's expectations like personalization.
Data scientists now have advanced computing power at their disposal and they are devising even more sophisticated algorithms. Businesses are forced to become a data-driven organization, utilizing various advanced technologies in order to stay relevant and competitive. More and more companies are now implementing these technologies to enable automation in every stage of the business cycle.
Volantis helps organizations across various industries to accelerate digital transformation through Artificial Intelligence, Big Data, Machine Learning, and other advanced technologies. Learn more about digital transformation and consult with us for free!
Click here