Companies across the world are investing into digital transformation. Just like how biological evolution is to ensure that a species survives the many changing conditions in the world, the same digital revolution ensures that despite many changes happening across the world, a business can still survive and grow. Digital transformation is the process of utilizing advanced digital technology to create or modify new business models and processes. Many businesses treat digital transformation as disruption, the disruption also adds extraordinary value and multiple benefits to the organization.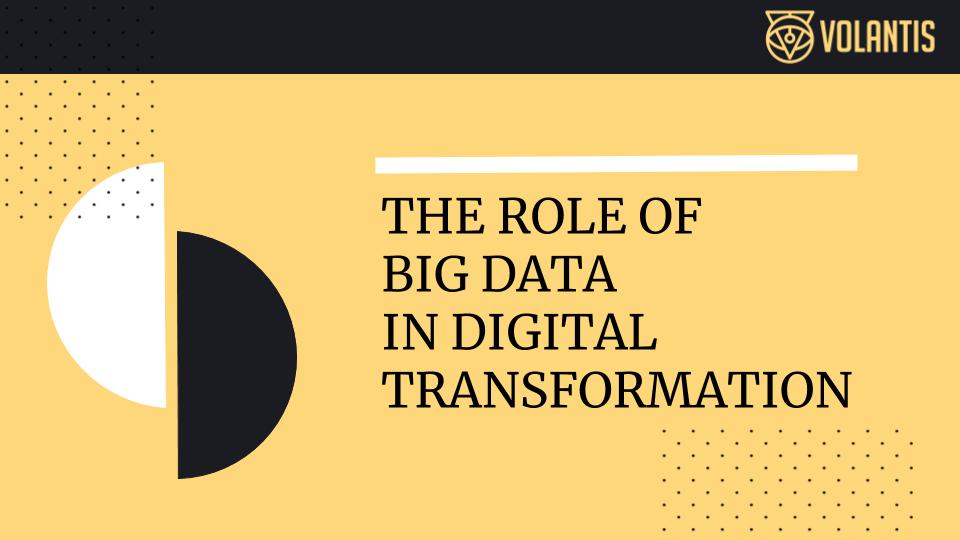 How exactly big data aids digital transformation? The term "big data" first emerged fifteen years ago as there's increasingly large, diverse, and complex volume of data that could not be easily managed by traditional data management. In recent years, big data has emerged as the primary or the main tools to digital transformation journey. Big data has the ability to analyze huge amounts of structured and unstructured data to gain insights. Before we discuss how big data impacts digital transformation, it's best to understand what makes big data.Big data is defined by four main features which are Volume, Variety, Velocity, and Veracity.
- Volume
Volume refers to the scale of data, the main characteristics that makes the data "big" is its volume. In this digital era, every single day, there is an exponential growth in data volume, both individuals and companies are responsible for this, as they have multiple internal and external sources such as transactions, social media, content, sensors, and mobile devices.
- Variety
Data has different formats; it can be structured, semi-structures, or even unstructured. Structured data refers to information with a high level of arrangement, so the inclusion of relational databases is searchable by simple and straightforward search engine algorithms. Semi-structured Data is a form of structured data that does not follow the regular formal structure of data models with relational databases but contains tags or other markers. Unstructured information is information that doesn't have predefined data models or not organized in a pre-defined manner.
- Velocity
Velocity refers to the frequency of data generated that needs to be processed. Think about how many data on social media is generated everyday and think about how fast the data is generated every single second as the flow of data is continuous. Real time data really help researchers and businesses to make valuable decisions that are based on concrete data, enabling strategic competitive advantage and ROI.
- Veracity
This refers to the trustworthiness and uncertainty of data, or to simply put, it refers to the data that is being collected that have biases, errors, noise, and abnormality in data. Working with huge amounts of data, organizations should have a team that handles specific tasks like this, it's to help your data clean to reduce bias in the results.
We have defined and elaborate the features of big data above, now let's discuss deeper about how big data actually helps the company to achieve digital transformation. The utilization of big data affects various parts of the organization such as decision making, marketing, customer engagement, supply chain management, etc. By leveraging big data, companies are able to seek new opportunities and innovate at the same time in order to fulfill higher expectations from customers and to stand out against tougher competition from competitors.
Big data analytics provide accurate real time insights based on real life data, that can make a life changing decision for the company. Let's take an example, let's say that your company is looking for the buying patterns of major customers A. You would refer to the data in CRM system records of how many times your organization's sales efforts have encountered customer A and see what was the result. Or the organization's marketing team might want to create a new marketing strategy for the same kind of customers as customer A, the marketing team then can refer to the analytics and observe the timing of the product campaign and the style of campaign for social media. The more data generated, the better and more accurate the analytics will be.
Raw data doesn't have any value, organizations need to process the data to become valuable insights. IT organizations can certainly leverage big data for reporting and process improvement purposes. However, the true value comes from combining big data and digital transformation efforts to enable automation and digitization of entire operations to improve efficiency and new business models. Here's how big data could help the process of organization's digital transformation.
1. Big data reveals digital transformation opportunities
The utilization of big data could shine a light on a dark corner of an enterprise. Large amounts of well-managed data will deliver a better understanding of operations, customers, and markets when integrated within an analytics. Wright of SAS stated that the bottom line is that for digital transformation to be successful and achieve the best insights, processing with as much data as possible is essential. Big data on its own is useless without a well-prepared idea or program. As the number of devices, IoT, smartphones, and other sensory machines grows, so does the amount of data they generate - to an exponential degree. The more data that goes into a digital transformation program, the better the result will be. The business value that an organization can generate from their investment in digital transformation will depend on their ability to extract their data.
2.Big data helps integration, not isolations
Digital technologies focused on delivering the most value from data can enable IT leaders to build data hubs for aggregating and staging data from different sources. Big data encourages centralizing information that helps companies access different kinds of information through a single place or dashboard, it's crucial to combine the data from different departments into a single place in order to get a full picture of an organization's situation. It's also important for organizations to then define what their goal is. For instance, define whether the company needs to increase revenue, cutting costs, increase customer engagement, etc. only by defining organization's goal, the company can come up with the right big data strategy to help the organizations' achieve its business goals.
3.Big data helps organizations to take proactive approach
In some cases, big data efforts can actually preclude digital transformation, especially when the data is not supported by a solid data governance program. Proactive approach over here refers to organizations should only use trustworthy data. Organizations can't simply just have access to more data and more sources without metadata management, data quality, data catalogs, and assigned security of the owner of the data. Organizations that invest in data governance as well as advanced analytics can see the most benefits from big data ranging from increased operational efficiency to improve customer engagements to improve revenues.
The Conclusions
The utilization of big data could shine a light on a dark corner of an enterprise. Large amounts of well-managed data will deliver a better understanding of operations, customers, and markets when integrated within an analytics. Big data helps organizations to accelerate digital transformation, it's also able to generate significant financial value across sectors, according to McKinsey.
Volantis helps organizations across various industries ranging from small to large enterprise, to accelerate digital transformation through advanced technologies such as Artificial Intelligence, Machine Learning, Big Data, Analytics, and many more. Solving businesses most complex problems, predicting business outcomes, and automating the process. If you'd like to know more about digital transformation, please consult with us for free.
Click Here