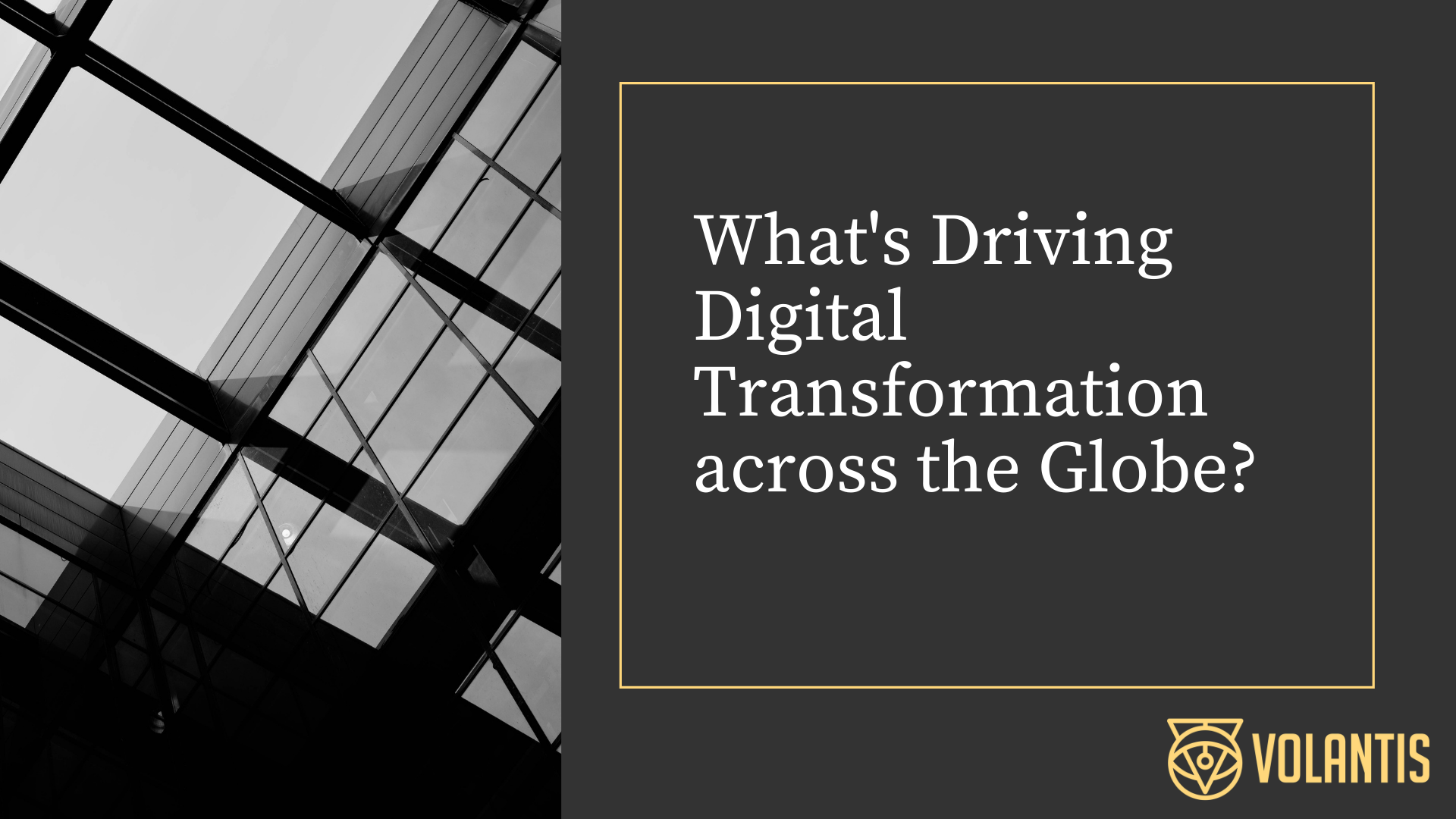 Digital Transformation is a forceful change happening across different sectors around the globe. This new wave of digital innovation is not like corporate initiatives of the past, but it's mainly the result of higher customer expectations and disruptive innovation. This new digital revolution that brings new digital products and services to the world is also known as Industry 4.0 or the fourth revolution. This era is indicated by the blurred line between the physical and digital world, where advanced technology is a part of everyday life and became a significant aspect in human life, to the point where it's hard for us humans to live our life as it is now without the role of technology. The main driving force of Digital Transformation across the world is the emergence of disruptive innovations and higher customer expectations.
Disruptive Innovation
Innovation is constantly happening, reshaping every industry that exists and disrupting the flow of existing business. However, to be truly disruptive, an innovation must entirely transform the product or services that were historically so complicated or only the rich or skilled people could have access to those products and services. Disruptive innovation refers to the process by which a product or service initially takes root in simple applications at the bottom of the market, typically by being less expensive or more accessible to the market.
The theory of disruptive innovation was first introduced in 1995 by Harvard Business School Professor Clayton Christensen in his book called The Innovator's Dilemma. The economist considered this book as one of the most influential business books that has ever been written. The book helped the best companies succeed by following the guidance that is written in the book, such as listening responsively to its customers, investing aggressively in technology, etc. However, with disruptive innovators appearing in the market, the top companies couldn't be successful by simply following the guidelines from the book. The fact is, many companies are too focused on check-listing the factors that are mentioned in the book, but failed to pay attention to the small, fast-moving disruptive innovators that are changing the game in the market, this phenomenon is challenging the competitor in a very aggressive way that it could lead to displacing established competitors.
The problem with significant innovation is that any breakthrough that is changing how industry competes, different types of innovation require different strategic approaches. To put it simply, the lessons we learn about succeeding being a disruptor in the market will not apply to any company in a shifting market. If the company is not careful to integrate insights from subsequent research and experience into the original theory, then leaders might end up utilizing the wrong tools in their context.
Again, Disruption describes the process whereby a smaller company with limited resources is able to successfully challenge established business. Specifically when an established business focused on fulfilling the needs of certain customers or segments in the market and ended up neglecting the other segments in the market. For instance, Uber could fill the gap that any taxi company couldn't see, by at the same time opening new job opportunities for a lot of people. Uber was founded in 2009, the company has enjoyed its fantastic success, it's now operating in 60 countries across the globe and still developing. Uber is clearly transforming the way the taxi industry operates, however is it also disrupting the industry? The answer is yes. Uber has exponentially grown the demand for its services, this is what happens when you develop a better, less-expensive solution for a mass amount of people.
With technology being more advanced than before, organizations should be on a constant watch over start-up and new businesses that disrupt the industry. Competition is only going to be tougher and tougher from now on, investing in advanced technology that could increase customer satisfaction and automate business processes, such as Artificial Intelligence, Big Data, etc.
Here's how to stay competitive against disruptors in the industry:
-Be adaptive
There's an increasing number of innovative organizations entering the market, and some of them truly disturb the industry landscape. To be adaptive to changes is one of the effective ways to survive in this digital competitive environment. Organizations have to change accordingly in order to stay relevant and able to thrive in this ever changing world. Utilizing advanced technology is able to improve the company's overall performance, productivity, and automate business processes.
-Partnership models
With disruptive technology rapidly changing the world, businesses are increasingly turning into partnership models. The EIU found that 31,9% of organizations have formed a strategic alliance with a company in their industry. A research stated that at least, 21.1% have engaged with disruptive start-ups as part of a formal corporate venturing program, this way companies are able to accept and embrace the disruption.
Invest heavily on advanced technology
Artificial Intelligence, Big Data, Sensor machinery, and many more advanced technologies are able to help companies to thrive in this highly competitive digital environment. The research found that digital technologies will impact sales positively for more than 50%. This technology is able to automate business processes, improve customer engagement, create accurate marketing segmentation, highly personalized products, etc.
Higher Expectations from Customers
Improvement in technology is driving the high expectation of customers on how the companies should deliver its value and interact with customers. Before the digital revolution era, basic customer experience like quality services and fair pricing met customer expectations. With the advance of technology in this era, customers expect highly personalized, simple, engaging experiences, effortless transitions between channels, and instant results. This is also the result of various choices in the market, the information about certain products or services can be accessible effortlessly on the internet, enabling customers to compare the products or services. This leads to higher competition in the market, as the customers are more educated and critical over what kind of products and services they want to purchase.
Here's 5 design strategies that will help the companies to exceed customer expectations in this digital era:
-Personalization
It's best if the companies could offer a mix of personalization and automation in both the physical and online world. The high personalization can be achieved through collecting, processing, and summarizing customer information, with the right technology such big data, the company is able to identify customer profiles based on their behaviour and preferences. The research from McKinsey stated that 75% of customers admit being more likely to buy from a company that recognizes them by their name, purchase history, and recommend them based on the products they prefer.
-Simplicity
There's a quote that stated that less is more. The customers nowadays, expect instant deliveries of products and services. As the world has become more complicated than it used to be before, the customers are expecting businesses to be more simple. By utilizing Artificial Intelligence into business, making it easier for businesses to automate their process and serving the customers instantly.
-Flexible
In today's digital era, it's essential to make your business accessible anytime and anywhere. This can be achieved by reducing the average waiting time. For instance, Uber is completely changing customers expectations by decreasing the average waiting time. Customer expectations could be varied across different geographical locations, some customers in city A might expect up to 3 minutes or some could expect to wait 10 minutes, depending on how long the company established in certain cities.
The Conclusions
Businesses are expected to accelerate digital transformation as the factors above are forcing these trends to happen. In order to fulfill customer higher expectations, stay relevant in this tough competitive environment, and protect the company against cyber threats. These advanced technologies are changing the way businesses operate. In the future, there will be more disruptive innovators and new businesses models that challenge the established existing business.
Volantis helps organizations across various industries ranging from small to large enterprise, to accelerate digital transformation through advanced technologies such as Artificial Intelligence, Machine Learning, Big Data, Analytics, and many more. Solving businesses most complex problems, predicting business outcomes, and automating the process. If you'd like to know more about digital transformation, please consult with us for free.
Click Here