Digital Transformation is happening across various industries, including the healthcare industry. The healthcare industry is evolving rapidly and the trend is all set to continue for several years ahead. The Covid-19 pandemic plays such an important role in accelerating digital transformation in this industry, the outbreak has become a catalyst for a change - a defining moment for all of us to reimagine healthcare the way it's supposed to be. Digital transformation in healthcare has never been so urgent before, this pandemic has revealed how weak the healthcare system is across the globe.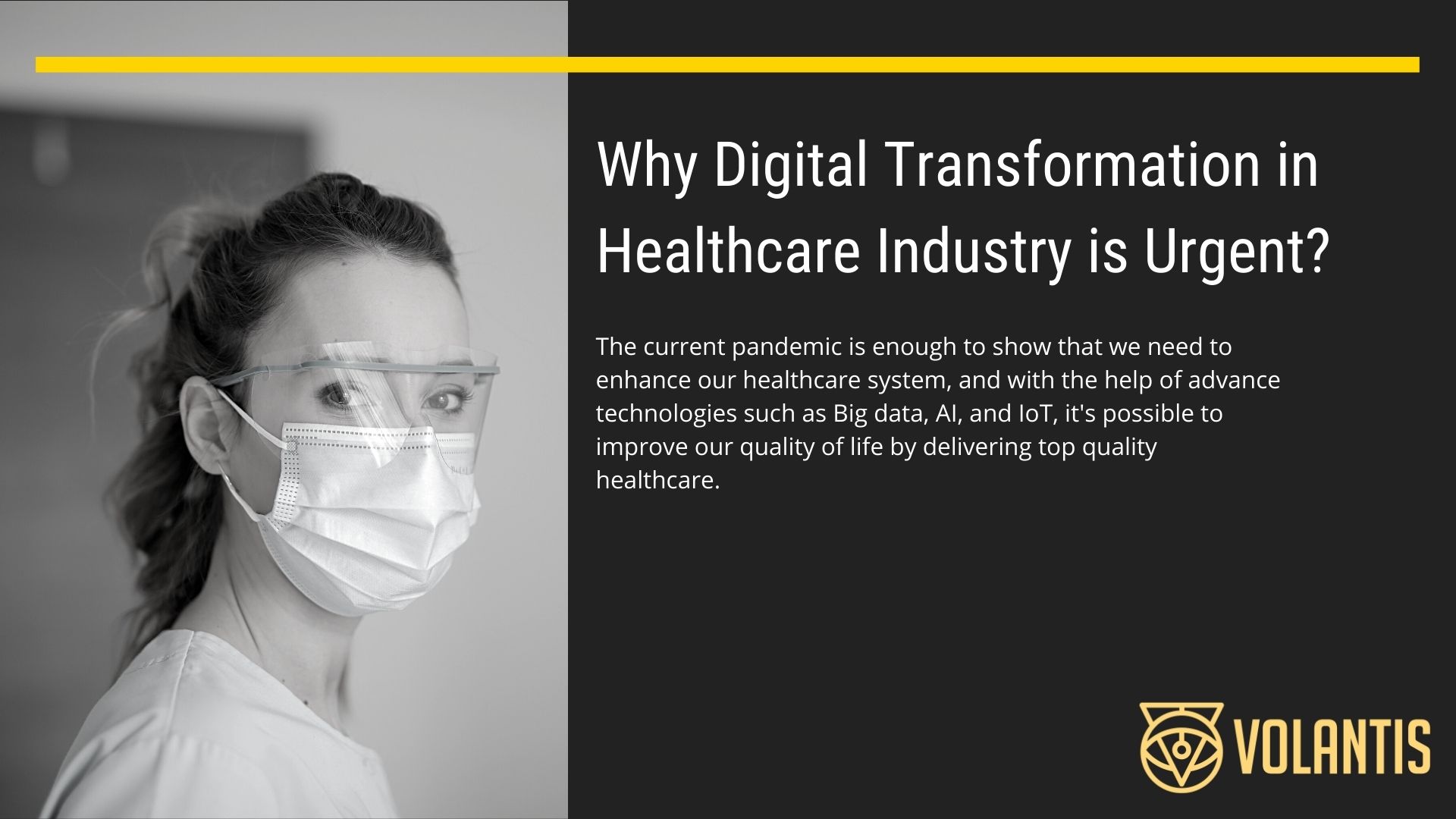 In the middle of April, the UN Department of Economic and Social Affairs issued the new policy brief where the organization emphasized the importance of digital technology in addressing the issues and embracing the reality during the pandemic."The crisis has demonstrated that it is impossible for societies to ignore technological advancements as they are continuing to change business models and people's everyday lives. Governments should embrace these policies - and technological developments - and harvest the digital opportunities that can support the long-term sustainable developoment of their countries."
Starting from the large-scale isolation, the benefits of integrating digital technology into people's daily lives are obvious. With the help of digital technology, we can work from home, socialize, obtain necessary information, exercise and maintain a healthy lifestyle, go shopping and even get basic medical and psychological care.
Companies such as Apple and Google, as well as several countries such as Norway, Australia, China, and Singapore, are or have launched different COVID-19 contact tracking applications to control the spread of the pandemic. The government and agencies have allocated large budgets to accelerate healthcare innovation and help medical institutions and healthcare professionals successfully overcome the pandemic crisis. eHealth startups have received a lot of support and investment. These days, not to mention all the top biotech companies paying attention to the field of vaccine development.
In the pandemic and other situations, there is growing interest in digital transformation in the healthcare sector, which proves that the industry's focus on technology may increase in the future. It is still too early to say how effective the existing technologies in this field of healthcare and digital transformation will help alleviate this pandemic crisis. However, we can already talk about the positive role of technology in improving medical outcomes on the front lines today.
Here's the role of technology in improving healthcare during the pandemic crisis and for post-pandemic.
Implementation of infection control:
Tracking technologies such as RFID, RTLS, and more complex networks that connect equipment and spaces can help monitor and control the movement of people (patients, doctors, nurses, and others), find medical tools and equipment, and track the sterilization process. These technologies are essential for identifying inflection points and reducing the spread of infection.
Increase Efficiency:
In general, a series of time-proven and widely adopted digital systems are provided for doctors, patients, and hospitals to help provide better, safer, and more timely medical services. These include electronic health records, hospital management systems, medical checklist software and electronic prescriptions. These platforms and many others can help regulate patient access, track treatment effects in real time, improve medication compliance, and smoothly manage financial, administrative and supply processes in the background.
Eliminating Human from the process:
Commonly used EHR, HMS and e-prescription help to better organize the basic processes in health and social care, and save employees from time-consuming daily work and paperwork. Other emerging technologies in healthcare, such as wearable devices, smart hospital equipment, mobile applications for chronically ill patients, robots and drones, completely eliminate human-to-human interaction when possible, thereby reducing medical care The pressure on the healthcare system also limits the risks associated with direct contact.
According to PWC, digital technologies are transforming the healthcare industry to ensure sustainable growth and deliver amazing patient care. By implementing digital solutions, it will create interconnected processes and systems for staff and enable them to perform with greater accuracy and efficiency. Creating integrated data and centralized data systems will help doctors and nurses to store and access data effortlessly. Here's how different technologies can contribute to digital transformation in the healthcare industry
Telemedicine
There are many innovations that are changing the way patients interact with healthcare professionals. Telemedicine evolution is one of the most significant in developed countries such as the US healthcare market, 90% of healthcare executives revealed that organizations started building or integrating telemedicine systems. The best example of telehealth technology is virtual appointments between patient and doctor, patients with mobility issues can use telemedicine to interact with health professionals. Telemedicine can also be used to take care and maintain high risk patients, enabling healthcare professionals to track patients conditions and activities remotely via IoT-based sensors and wearable devices. It is essential to consider this new solution in the healthcare industry, facilitating a platform for both patients and healthcare professionals to communicate through video call, voice call, or text.
Big Data
Big data is transforming the way healthcare organizations collect, process, leverage, and manage data. Utilizing data in the healthcare industry is very useful as it can be served to avoid preventable disease, improve the quality of life, decrease costs of the treatment, and forecast the pandemic outbreaks. The collection of massive amounts of data by healthcare professionals is done to find the best suitable way to provide the best healthcare service possible as big data enables healthcare professionals to get valuable information from it, informing healthcare professionals with valuable information helps them to solve issues accurately and provide solutions before it's too late. Here's how big data can be used in healthcare industry: Predictive analytics to improve staff management
Health care duty managers often face the question of how many people should be hired at any given time. If the manager hires too many workers, you may face unnecessary labor costs and resource risks. On the other hand, too few staff can also lead to poor customer service results, which brings greater risks to the health of patients. Big data can solve this problem. Data from various sources can be used to generate daily and hourly forecasts to predict how many patients will be in a hospital or clinic. In Paris, the four hospitals affiliated with the Paris Public Hospital Assistance Center have used multiple sources, such as 10-year hospitalization records, to provide daily and hourly forecasts to predict how many patients will be hospitalized at any given time. Therefore, collecting data and using it to discover patterns of predictive behavior can help improve staffing by predicting patient admissions.
Real-time Alert
Real-time alerts are also one of the important examples of big data analysis in the healthcare industry. The hospital uses clinical decision support software to analyze medical data on-site and provide suggestions to medical practitioners to help them make smart decisions. Wearable devices are used to continuously collect patient health data and send it to the cloud. For example, if the patient's heartbeat increases suddenly, the system will send a real-time notification to the doctor, who can then take steps to reduce the frequency and contact the patient. IoT (Internet of Things) is really useful, since the smart device can collect massive amounts of data, with the help of AI (Artificial Intelligence) it can help healthcare professionals to receive notifications as real-time alerts. Other than that, the data that is collected can be used to analyze a patient's health condition based on continuous and intense reports by the device, allowing healthcare professionals to issue accurate prescriptions.
Strategic Planning
Big data in healthcare promotes strategic planning. The health care manager can analyze the examination results of patients in each demographic group. Moreover, they can identify factors that prevent people from receiving treatment. The University of Florida uses free global health data and Google Maps to create heat maps for specific issues such as chronic diseases and population growth. A carefully and thoroughly developed data collection will help big data to inform the right set of information, enabling both precision medicine and the development of a learning health system. Therefore, healthcare data can also be used to plan smart strategies.
Avoiding Human Error
Many times, it has been found that professionals either tend to dispense different drugs or prescribe the wrong drugs by mistake. Big data can be used to reduce such errors by analyzing prescription drugs and user data. Big data healthcare tools can be used to monitor prescription data collected from different medical professionals. The software can flag any doctor's prescription errors and can save many lives. Giving the wrong prescription and medication could lead to a fatal result, and it is indeed a serious problem for the healthcare industry. Big data could collect and analyze data of patient's records with all medications prescribed, and flagging the medication that seems off. An Israeli start-up called MedAware has developed this type of software with incredible results, where 747,985 patients were analyzed in a clinical study and from these records 15,693 were flagged, this software could be a life-changing tools for healthcare professionals and predicted to save up to $21 billion dollars per year.
Internet of things
Before the introduction of the Internet of Things, the interaction between patients and doctors was limited to physical visits and text communication. Doctors or hospitals cannot continuously track the health of patients and take corresponding measures. IoT-enabled devices can facilitate remote monitoring in the healthcare industry, unlock the potential to keep patients healthy and safe, and allow doctors to provide better care. Because the Internet of Things makes interaction with doctors efficient and easy, it improves patient satisfaction and participation. The Internet of Things has transformed the healthcare industry by reshaping the interaction between people in providing healthcare solutions. The implementation of IoT in healthcare benefits doctors, hospitals, patients, and insurance companies.
The Conclusions
The current pandemic shows that our world needs urgent action to be taken to improve the global healthcare system. Also, with the increase of global population, enhancing healthcare systems should be the top priority. There's an increased demand in providing top quality healthcare, complexities in service delivery, and the service expectations, advanced technologies are able to deliver better healthcare. Big Data is able to generate accurate analytics of patients conditions and provide predictive measurements, IoT is able to track patient's conditions based on real time and continuous updates. According to the McKinsey report, automation and digital enhancement in healthcare have successfully prevented up to 95% of adverse drug events, saving lives by enhancing care recommendations, and reducing cost 7 to 11 percent.
Volantis helps organizations across various industries ranging from small to large enterprise, to accelerate digital transformation through advanced technologies such as Artificial Intelligence, Machine Learning, Big Data, Analytics, and many more. Solving businesses most complex problems, predicting business outcomes, and automating the process. If you'd like to know more about digital transformation, please consult with us for free.
Click Here